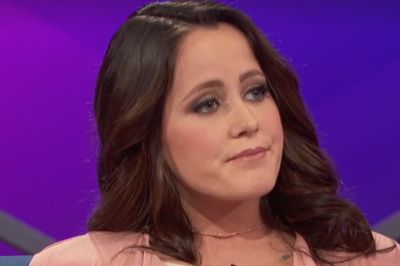 On Friday, Radar Online and The Ashley reported that Teen Mom 2 star Jenelle Evans (temporarily) called off her wedding to soulmate David Eason, less than 24 hours before she was due to walk down the aisle. As The Ashley told you, Jenelle was filming the day before the wedding, but kicked the 'Teen Mom 2' crew and producers off The Land after lunch, after telling people that the wedding was off.
While some 'Teen Mom 2' fans found it unbelievable that Jenelle called off the wedding the day before getting hitched– they now have video proof that it happened!
As The Ashley told you on Friday, Jenelle and David had been arguing all morning, but things came to a head when Jenelle found out David had sold a wedding exclusive to a tabloid without her knowledge.
Radar Online has just posted a video shot on Friday night, when Jenelle and David's fight was in full swing. In the video, David can be heard discussing Jenelle calling off their wedding, and both are heard fighting about wedding prep. (As The Ashley told you, The Land was in disarray on Friday night, with very little set up for the ceremony and reception on Saturday.)
"It is legit madness right now!" The Ashley's source, who was on The Land during some of the fight, told her on Friday night. (The Ashley heard that the fighting was so bad that producers offered to put Jenelle up in a hotel room for the night, but she declined.)
At one point in the video, David and Jenelle are heard screaming about the placement of the vendors on The Land, and David scolds Jenelle for not helping him with the set-up.
"Well maybe you shouldn't have been in the bathtub…You should've been out here!" he yells at her, later adding, "Instead of saying that the f**king wedding is over, you should have been out here doing something!"
Earlier that night, David had given Radar an interview about the Chaos on The Land, telling the site, "When I'm out here working constantly, every f***ing minute of the day, she's sitting around. This place looks different every day. It's all because of me. These people wouldn't be here if it wasn't for me."
Jenelle and David eventually put their differences aside to get married on Saturday, declaring their everlasting love in front of friends, David's family and an MTV crew. (As The Ashley told you, Jenelle's mother, Barbara, wasn't invited to the festivities and spent the day doing her own thing.)
Watch the explosive fight unfold in the video posted below. (Remember, this is just a very small piece of what went down on Friday night. They had been fighting for hours before this was shot.)
(Photo: MTV)