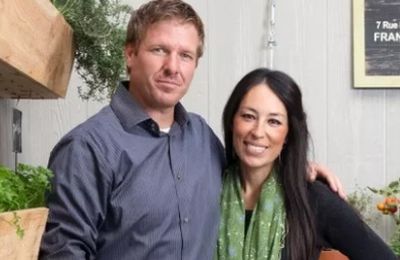 Chip and Joanna Gaines of HGTV's Fixer Upper have announced that their demo days will come to an end — at least on TV. The couple revealed on Tuesday that the upcoming season will be the show's fifth and final one.
Chip and Joanna broke the news in a video and statement on their Magnolia Market website, telling fans they were taking time to focus on their Waco, Texas-based business and "hunker down" with their four kids.
"While we are confident that this is the right choice for us, it has for sure not been as easy one to come to terms with," their statement reads. "Our family has grown up alongside yours and we have felt you rooting us on from the other side of the screen. How bittersweet to say goodbye to the very thing that introduced us all in the first place."
The couple also took a moment in their announcement to squash rumors of divorce, stating that their family is healthy and their "marriage has honestly never been stronger."
"This is just us recognizing that we need to catch our breath for a moment," they stated. "Our plan is to take this time to shore up and strengthen the spots that are weak, rest the places that are tired and give lots of love and attention to both our family and our business."
Chip and Joanna have worked on more than 100 homes since the 2013 premiere of 'Fixer Upper.' The final season will begin later this fall.
"We are really, really proud of Season 5," the couple said. "We laid it all on the field and didn't hold anything back. We think it's the perfect finale to this amazing journey we've been on. Season 5 begins in November and Behind the Design will follow shortly after. There's so much good, new stuff coming your way!"
While the couple admitted they were sad to see the 'Fixer Upper' chapter of their lives come to an end, Chip assured viewers that he and Joanna weren't going anywhere.
"At the end of the day, you can find us here in Waco, Texas," he said. "Of course, you can always come visit us at [Magnolia Market at] the Silos. You never know, you might see us at a local little league game in town with the kids."
Chip also noted that with or without the cameras, the renovating will continue for the couple.
"We can't wait to see what's next," he said. "We believe in our hearts that we're going to see you again right around the corner, so stay tuned."
Click here to watch Chip and Joanna's video announcement.
(Photo: HGTV)