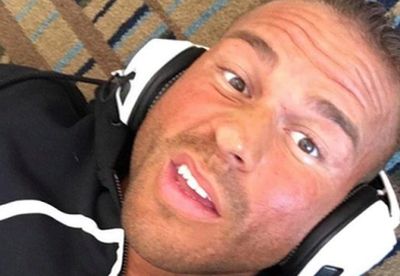 Bust out your protein shakes and get ready to celebrate the art of the man-bun because MTV is giving fans/critics an insight into the life of Jenelle Evans' baby daddy No. 2, Nathan Griffith. The Teen Mom 2 "Being Nathan" special airs Wednesday.
The hour-long special will follow the father of two as he moves back in with his mom, pursues a career in bodybuilding and gets back into the dating scene.
In true 'Teen Mom' fashion, Nathan will also deal with a pending court case with possible jail time and figuring out how to get along with Jenelle, who is the mother of his son Kaiser.
If the special is anything like the recent posts on Nathan's Twitter, we can expect to see a plethora of swoll sessions, gratuitous muscle flexing and an array of cutoff shirts and tanks.
"Being Nathan" isn't the first time special that MTV has dedicated to the supporting cast mates of the 'Teen Mom OG/2' franchise. Viewers have been given specials in past seasons featuring Amber Portwood's former moocher fiancé, Matt Baier, the Edwards family, jail cell regular Butch Baltierra, Barbara Evans and Debra Danielson, aka DebzOG.
Nathan's former soulmate Jenelle has stayed quiet on the upcoming special. However, Nathan's currently girlfriend, Ashley Lanhardt, spoke out on Twitter about the special, stating that she has little use for MTV, and that she refuses to be on 'Teen Mom 2.'
"Can't wait to see where @mtv puts me into Nate's special just for extra drama, even though I wasn't even around for the filming of it," Ashley tweeted on Wednesday. "I'm sure @mtv added in footage recently shot just for dramatic effect. Nathan is nothing but a 'character' for you…and you wonder why I refuse to film. I'm not letting u make me a character like u did Nate. I don't need my life ruined by 15 seconds of fame. No. I refuse to film or even let them use my name. But Nathan can 'reference' me."
The "Being Nathan" footage was shot a while back, but there have been a lot of developments involving the 'Teen Mom 2' dad in recent weeks. As The Ashley previously reported, Nathan's mother, Doris Davidson, recently took Jenelle to court seeking emergency custody of Kaiser. While she eventually dropped her bid for emergency custody, Doris and Jenelle will meet in court next month over the issue, so more footage may have been shot to include those events.
"Being Nathan" will airs Wednesday night on MTV. Watch a sneak peek clip below:
How is Nathan preparing for his competition? ? Get to know Nathan TONIGHT and WATCH '#BeingNathan: A Teen Mom Special' at 9/8c on @MTV​! pic.twitter.com/ot0lFYdFsj

— #TeenMom2 (@TeenMom) September 27, 2017
(Photo: Twitter)