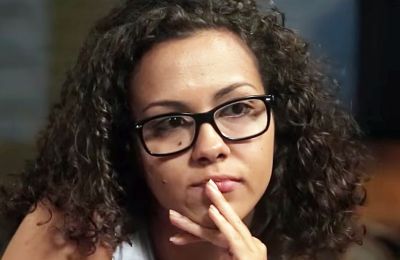 Teen Mom 2 star Brianna Jesus just gave birth to her second baby two months ago but she's already planning an epic plastic surgery makeover for herself! Briana told Radar Online that she is high-tailing it back to the operating room of Snapchatting plastic surgeon, Dr. Miami.
That's the same doctor who infamously carved up the 'Teen Mom 2' star (in addition to her sister Brittany and future co-star Kail Lowry), in an epic Brazilian Butt Lift fest in January 2016. (She also got her gentlemen greeter "fixed" and got liposuction last time.)
This time around, though, Briana is getting "the works."
"I'm going to go [to Dr. Miami] back in January," Briana told Radar. "I want a tummy tuck, a breast reduction and liposuction."
Briana has also undergone not one but two breast enlargement surgeries. She had Dr. Miami pump up her breast implant size from 375cc to 650cc in January 2016, but it appears that she is over the extra-large boobs.
For those of you trying to follow along at home, that means that by next year, 23-year-old Briana will have undergone three breast surgeries, a labioplasty, liposuction, a Brazilian Butt Lift and a tummy tuck. She is about to give her fellow 'Teen Mom' co-star (and plastic surgery enthusiast) Farrah Abraham a run for her (MTV) money for most plastic 'Teen Mom!'
In May, Briana bragged that Dr. Miami had already promised to perform more surgery on her. (He claimed that Kail Lowry already has her next surgery date with him booked too!) Briana's surgeries are comped, thanks to a deal her manager has with the Good Doctor.
It is unknown at this point if Briana's surgery will be filmed for 'Teen Mom 2' or Dr. Miami's reality show.
How did her fans react to the news that Briana is once again going under the knife? Well, according to an In Touch Weekly Instagram post about the story, not well.
"She has two kids, lives at home with mommy and she's worried about surgery? Did she even heal yet from giving birth?" one person wrote in the comment section.
"Didn't she already get plastic surgery!? So selfish of her. Why not get an apartment for her and the girls," another asked.
"Focus on getting an education," one fan wrote. "She is in the same situation she was in having a baby at 16! She has to change and MTV promoting this chick and her ignorance.
"Maybe she should consider getting an education and birth control before she gets plastic surgery," another fan agreed.
Briana gave birth to her daughter, Stella, two months ago. Stella's father, Luis Hernandez, and Briana have already broken up.
She's been keeping busy in recent weeks, and recently stated that she will return to her full-time job on Sunday, with Stella going to daycare. Last weekend, Briana and her daughters joined 'Teen Mom 2' star Javi Marroquin and his boys at Disney World. Rumors have been flying that the two are dating, but neither has confirmed this.
(Photo: MTV)