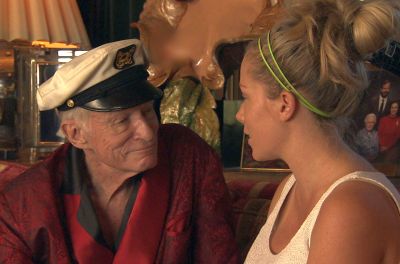 Playboy magazine founder Hugh Hefner passed away yesterday at the famous Playboy Mansion in Holmby Hills, California, surrounded by loved ones. He was 91 years old.
Hef's passing was announced Wednesday night on Playboy's official Twitter account and confirmed in a statement from Playboy Enterprises. He leaves behind four children and wife, Crystal, whom he married in 2012.
Crystal has yet to comment on her husband's passing, but Hef's former girlfriends who starred alongside him on the E! reality show The Girls Next Door, took to social media to share memories of their time at the mansion following the news of his passing.
Well…most of them did, anyway.
Kendra Wilkinson, who appeared on the show and dated Hef from 2004 to 2008, posted a series of photos with the Playboy founder, which she captioned, "Thank you, Hef!" Included in the post was a photo of Kendra and Hef at her 2009 wedding to Hank Baskett, held at the Playboy Mansion, with an additional dedication.
"Thank you for everything," the photo stated. "People might not understand you but that's because they've never had the chance to know you like I do. I'll celebrate you forever."
Kendra also thanked fans for their condolences on Twitter, adding, "Can't really put into words how I really feel. It's easy to say he will be missed and how much I loved him. There's a lot more than that."
Bridget Marquardt, who dated Hef from 2002 to 2009 and appeared alongside Kendra on 'The Girls Next Door,' posted a photo of herself and Hef, stating, "So sad but forever grateful for all the wonderful memories and amazing experiences."
Twins Karissa and Kristina Shannon posted matching tributes to the Playboy founder on social media, remembering their time living with him in the mansion in 2008 and 2009. Karissa and Kristina appeared on final season of 'The Girls Next Door' alongside Crystal.
"You changed our lives and made us women," the twins said. "We had so much fun and made so many memories that we will never forget!! What keeps us sane is knowing we have memories of us, the pictures captured a glimpse, but our hearts captured everything like a film recorder! Thank you for giving us a kind of love not everyone gets to experience in life! Pop in on us from time to time and tell our mom in heaven we have been good girls. May the wind always be at your back, and the sun always upon your face, and may the wings of destiny carry you to a loft to dance with the stars! Forever love, your Twins."
Holly Madison, who dated Hef from 2001 to 2008 and starred with Kendra and Bridget as one of the original Girls Next Door, has been noticeably quiet on Hef's passing. Holly was known as Hef's "#1 girl" for most of their time together. However, her 2015 tell-all, Down the Rabbit Hole, reportedly caused tension between Holly and Hef, as she revealed an unfavorable depiction of what life was really like inside the Mansion.
Hef's son Cooper Hefner, Playboy Enterprises' chief creative officer, posted a tribute to his late father following the announcement of his death, commending his accomplishments during his 91 years of life.
"My father lived an exceptional and impactful life as a media and cultural pioneer and a leading voice behind some of the most significant social and cultural movements of our time in advocating free speech, civil rights and sexual freedom," Cooper commented. "He defined a lifestyle and ethos that lie at the heart of the Playboy brand, one of the most recognizable and enduring in history. He will be greatly missed by many, including his wife Crystal, my sister Christie and my brothers David and Marston, and all of us at Playboy Enterprises."
Hef will be laid to rest at the Westwood Village Memorial Park Cemetery in a plot next to Marilyn Monroe — Playboy's first cover girl. Hef reportedly purchased the plot in 1992 for $75,000.
Paparazzi photographers captured the moment a hearse carrying Hef's body left the Playboy Mansion early Thursday morning.
(Photo: WEtv)