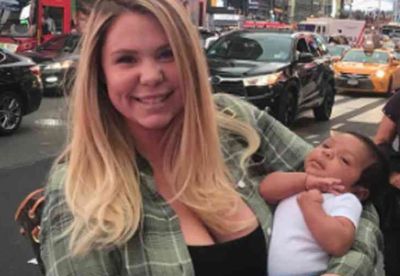 It's been a few days since Kail Lowry announced that she has finally named her third son, and now the Teen Mom 2 star is opening up about her son Lux's unique moniker. As The Ashley previously reported, it took Kail nearly eight weeks to decide on a name for the baby boy.
In an exclusive interview with The Ashley, Kail revealed why it actually took so long to choose a name, and whether Baby Lux will be using her last name or the last name of his father, Chris Lopez.
Kail caught a lot of flak from 'Teen Mom 2' fans for taking so long to name the baby after his birth.
"It took me so long to name the baby because I was trying to work with Chris to agree on the name," Kail told The Ashley. "But we just couldn't agree. Until we ended things [between us] for good and I decided I would just pick something I loved and he agreed to the first name [we picked] prior to me deciding it would be the name for sure."
Although it may seem unusual to some that Kail waited nearly eight weeks to name her baby, she was completely within the laws of the state of Delaware, which is where she gave birth to Lux. Parents have up to 90 days from the baby's birth date to name their child.
Kail told The Ashley that she eventually had to make an executive decision on the baby's name.
"I finally decided on a name because it felt like I was going nowhere with Chris trying to decide," she said.
"Lux is different but not completely off-the-wall," Kail said, adding that she and Chris were heavily considering the name Christian before deciding on Lux.
Lux's middle name is Russell, which Kail chose in honor of hip hop artist Russell Vitale, who goes by Russ. (This falls in line with the names of Kail's other two kids. Her son Isaac was named after singer Isaac Hanson, and her son Lincoln's middle name, Marshall, is a tribute to rapper Marshall Mathers, aka "Eminem.")
Kail confirmed to The Ashley that the baby's full name is Lux Russell Lowry. While Chris agreed to the baby's first name, Kail said she doesn't know how he will feel about the baby's middle name and the fact that the baby will have her last name instead of his.
Lux is Kail's third child and Chris' first.
(Photo: Instagram)