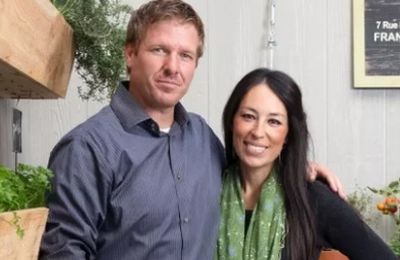 HGTV's favorite couple Chip and Joanna Gaines told viewers last month they were ending the run of their show Fixer Upper to focus on their Waco, Texas, business and "hunker down" with their kids, but it appears that there may be more to their exit.
According to Page Six TV, the demolition duo is actually closing the door with HGTV due to "horrible contracts" in hopes to bring their shiplap style over to the Discovery Channel.
Scripps, the company that owns HGTV, is currently in the process of being purchased by Discovery Communications. Page Six reports that Chip and Joanna have their eyes on a bigger deal with the company once that sale is finalized. The source also notes "very restrictive" contracts with Scripps talent as another reason for Chip and Joanna setting their sights elsewhere. These restrictions reportedly include needing permission for appearances, publicity and products, as well as giving Scripps a percentage of profits.
It should be noted, though, that a rep from HGTV is denying the rumors, adding that Chip and Joanna have made their decision "and we support them."
A rep for Chip and Joanna's Magnolia Market is echoing similar sentiments and reiterating the previous reasons the couple gave for deciding to end 'Fixer Upper' on HGTV.
"Chip and Jo's decision to leave 'Fixer Upper' is truly just based on wanting to catch their breath for a minute; to rest, refresh, and spend even more time with their family and growing businesses," Brock Murphy, director of public relations for Magnolia Market told Page Six. "It is not based on anything else people might read. They were very open and honest about their reasoning behind this decision when they first shared the announcement."
Until fans know for sure, they can look forward to watching the fifth and final season of Fixer Upper, premiering next month on HGTV.
Watch the cast of Page Six TV discuss this story on the show in the clip below!
(Photo: HGTV)