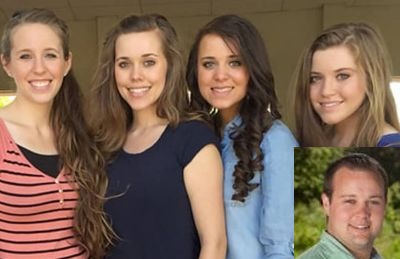 Josh Duggar and his sisters Jill, Joy, Jinger and Jessa just had their lawsuits against Bauer Publishing (parent company of In Touch Weekly) dismissed by a federal judge.
Josh solely sued the publishing company in June after unsuccessfully trying to join his sisters' existing lawsuit against Bauer and other defendants. The lawsuit was in regard to In Touch Weekly breaking the bombshell news back in 2015 that Josh had molested five young girls as a teen, four of whom were his younger sisters.
Josh and the girls separately claimed that the documents shouldn't have been published without their names redacted so that the public would not know the identities of the victims, all of whom were minors at the time of the molestation.
In his solo lawsuit, Josh stated that his "right to due process was violated" and his privacy was invaded. He sued for $75,000 in damages, lawyer's fees and a jury trial.
"U.S. District Judge Tim Brooks also dismissed Bauer Publishing and its attorneys from both Duggar's case and a case filed by four of his sisters, saying Bauer had a First Amendment right to publish information given to it under a Freedom of Information Act request," Arkansas Online reported on Saturday.
"Even if one assumes that the disclosure failed to comply with Arkansas statutory redaction requirements, it is clear that the Bauer defendants cannot be held liable, for the city's and county's failure to follow the law," Brooks wrote. He added that Bauer merely gave further publicity to true information about a person which is already public.
Arkansas Online reports that the only defendant remaining in Josh's lawsuit is the Arkansas Department of Human Services, which "has never been served with the lawsuit."
As for the lawsuit filed in May by Jill, Jinger, Jessa and Joy, the sisters lost their lawsuit about Bauer Publishing, the City of Springdale, Arkansas, Washington County, and several of the city officials (in their official capacity). The Duggars girls claimed in their lawsuit that those named were to blame for allowing the legal documents that exposed them as victims to be released.
In May, the City of Springdale released a statement saying the sisters' claims against the city and its officials were "without merit and are false."
While Judge Brooks has since dismissed the City of Springdale, Washington County and Springdale City Attorney Ernest Cate and former County Attorney Steve Zega, in their official capacities, he did not dismiss the claims against Attorney Ernest Cate, former Springdale Police Chief Kathy O'Kelley, or Maj. Rick Hoyt of the Washington County Sheriff's Office in their individual capacities. Those parts of the Duggars sisters' lawsuit remain active.
Judge Brooks stated that the Duggar sisters had a reasonable expectation the information wouldn't be released to the public when they provided it to the City officials when the incidents took place.
All three public officials remaining in the Duggar sisters' lawsuit have filed motions to have themselves dismissed from the lawsuit, but Judge Brooks denied those motions. All three have appealed the rulings.
The Duggars sisters are seeking an unknown amount in compensatory and punitive damages.
For more information about the Josh Duggar Sex Abuse Scandal, click here.
(Photos: TLC)