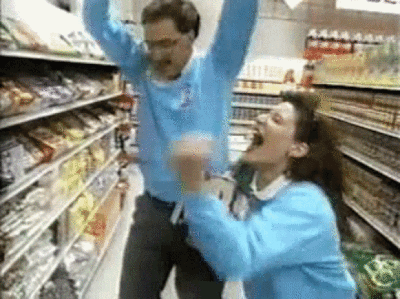 Millennials will finally get their chance to throw on a brightly colored sweater and race a shopping cart around a fake grocery store because…. Supermarket Sweep is coming BACK to television!
Deadline announced this week that the game show, which originally premiered in the 1960s but came back in the 1990s and 2000s, will be revived again by FremantleMedia. Modern-day conveniences will be incorporated for this lap around the supermarket, though.
"The time is ripe to bring back this all-time favorite game show which has traveled with such success over the years," FremantleMedia's Vasha Wallace said in a statement. "Now, modern technology allows us the opportunity to update the show, making it relevant for a 21st-century audience."
'Supermarket Sweep,' (which was one of The Ashley all-time favorite game shows, by the way), has contestants answering grocery-related questions as well as going wild as they run through the aisles of the fake supermarket during a "sweep," attempting to fill their carts with high-priced grocery items. (Everyone knows that the money was in the meat and cheese aisle and the drug aisle, duh. Oh, and if you didn't get one of those blow-up bonuses, you were probably going to lose.)
FremantleMedia has yet not provided many details about the 'Supermarket Sweep' reboot, so it's unknown when the show will premiere and who will be hosting this time around.
There is also no information available (yet) on how fans can audition to be a contestant on the new episodes.
In the meantime, watch this clip of the 1990s version of 'Supermarket Sweep.' After viewing this clip, if you're not salivating to get your mitts on one of those carts and buzz around a store throwing turkeys into your cart like it's the apocalypse, there may be something wrong with you.