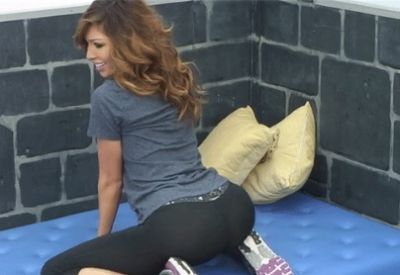 It's hard to believe but Farrah Abraham is reportedly ready to go under the plastic surgeon's knife yet again!
Fresh off of her second vaginal rejuvenation procedure, Farrah is already looking to make some more "upgrades" to her ever-evolving figure and face, according to Hollywood Life.
According to reports, the Teen Mom plastic surgery aficionado is looking into getting her fourth boob job in the near future to increase her cup size. (Her third boob job back in 2015 bumped her cup size to a jumbo 800cc, which is the largest saline implant that the FDA approves.)
Farrah reportedly has some other cosmetic procedures on her wish list.
The site's sources state that Farrah wants to add some junk to her trunk in the form of butt implants. This is not the first time the 'Teen Mom OG' star has expressed her desire for a bigger booty. In January 2015 she went on The Drs. to discuss her desire to get butt implants, even though the show's MDs advised her against having the procedure done.
(For those of you who want to remember Farrah's butt in its natural state, you can always buy one of these.)
Hollywood Life also reports that, in addition to the continued Botox and fillers on her face, Farrah wants to get some lipo-sculpting to add some definition to her stomach area. She's also not against the idea of going under the knife for a neck and face lift "in the distant future."
If you're trying to keep count at home, if Farrah goes ahead with the breast and butt surgeries mentioned above, she will have had: four breast augmentations, butt implants, a rhinoplasty, a chin implant (and removal surgery), butt tightening, and two (recent) vaginal rejuvenation procedures, in addition to getting various filler injections and lip injections…and she's only 26 years old.
Farrah's most memorable plastic surgery procedure was a surgery that went awry in 2015, when Farrah was attempting to have a device implanted into her lips to keep them full. However, an allergic reaction left Farrah with a serious (yet temporary) case of duck mouth.
Hollywood Life's source says that, despite the mishap, Farrah loves getting lip fillers.
"There's no way Farrah would ever stop having those now," the source said. "She absolutely loves the plumped up look she gets from them."
As of now, it is unknown if Farrah will allow MTV to film her future surgeries for 'Teen Mom OG.' We're sure the crew would be more than happy to shoot in a hospital and have the luxury of using actual restroom facilities, instead of the Port-a-Potties they're used to using at Farrah's place!
Farrah isn't the only 'Teen Mom' star planning to go under the plastic surgeon's knife soon. Teen Mom 2 stars Briana DeJesus and Kail Lowry have both revealed that they will be getting more plastic surgery via Dr. Miami in the coming months.
(Photo: Hollywood Life Twitter)