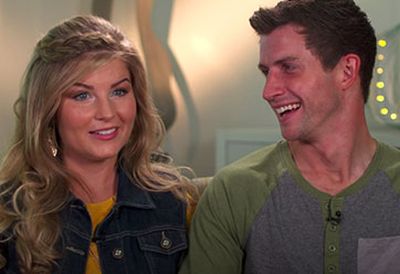 Bringing up Bates is coming back for another season, and there's going to be a new cast member!
Erin Bates Paine is expecting her third child with her husband Chad. The 26-year-old is already the mother of one boy and one girl. The new baby will be named Everly Hope and is due in April.
"We are overjoyed to be adding baby Everly Hope to our family this April," Erin told People. "She is already loved and adored so much.  Our hands are full with two little ones–the giggles, slobbery kisses, and yes, the diapers!  We know it will be quite an adventure, and we are definitely anticipating her arrival. We are grateful, so very grateful."
The couple said they found the name Everly in a book and "fell in love with it."
"I think I am most excited about seeing the siblings together. Carson (2) and Brooklyn (14 months) have such a special bond with each other, and I know it will only grow stronger when Everly comes," Erin told the magazine. "Carson has been the best big brother to little Brooklyn…When I told him I was going to have a baby soon, his face just completely lit up, and I think every single day since he has told me how he can't wait to 'hold the baby, and kiss the baby, and hug the baby!' It's the hottest topic of conversation around our house!"
Chad and Erin are no strangers to heartache, however. The couple said they suffered several miscarriages due to Erin's blood clotting issues before welcoming Carson.
"I think I will always have a certain level of fear during pregnancy, because I've had miscarriages in the past, but I know I have a great doctor who reassures me we are doing everything to keep baby and mom safe and healthy through this," Erin said. "I am so grateful for the love and support from Chad as well. I've been pampered."
The Bates Family, who is pals with the Duggar clan, is known for being an extra-large family. Erin is one of 19 children. Her mother, Kelly Jo Bates, gave birth to a kid each year (almost) for 19 years, and it seems Erin may be following suit, given that this will be her third baby in as many years.
Erin' pregnancy is sure to a huge story line in the new season of 'Bringing Up Bates,' which premieres January 4 on UPTV.
(Photo: UPTV)