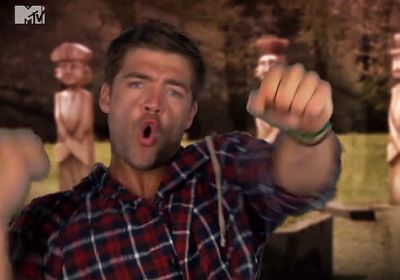 MTV's The Challenge: Champs vs. Stars has yet to air, but viewers are already getting a taste of the drama that's to come… that is, in addition to the drama The Ashley already told you about.
The network has released a first look at the upcoming season and, based on this 30-second trailer, the Stars are in for an eventful eight weeks with the Champs. (Click here to see the season's cast list!)
At one point in the trailer, we see Stars team player Terrell Owens declare he "didn't sign up for this" and Ariane Andrew inform the house, "Bitch, I don't do that!" Unfortunately, we don't get to see what causes these outbursts…yet.
Viewers can expect plenty of drama coming from the Champs team as well, along with the usual shenanigans. In addition to the inevitable tears among the cast, we see CT Tamburello getting ready to "choo-choo" his way to another victory, stopping at the train station just long enough to get into a heated argument with another member of the house. (Is this the return of the "old" hot-headed CT, replacing the happy-go-lucky dad-bod CT of more-recent seasons?)
We also see Johnny Bananas declare, "This has never happened, what the f**k!" This is, of course, a pretty bold statement for someone who has appeared on pretty much every season of this show since the early 2000s!
Viewers can also look forward to some soapy wrestling among the competitors, which we can only assume was done at the suggestion of this season's host, current WWE star (and former 'Challenge' contestant) Mike "The Miz" Mizanin.
'The Challenge: Champs vs. Stars' premieres Tuesday, November 21 on MTV. Watch the season's first trailer below:
(Photo: MTV)