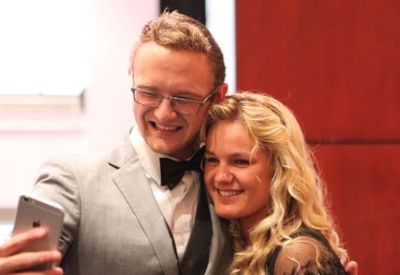 The Willis Family is trying to move beyond their recent pain to happier things.
The family is currently celebrating the engagement (and preparing for the upcoming wedding) of daughter Jeanette (aka "Jett"). The 21-year-old became engaged to fellow musician Cory Piatt in August.
"Couldn't be more excited to marry my partner in crime in a few short months," Cory captioned a photo of him and Jett posted to Facebook on October 9.
Cory is the mandolin player for the Mountain Faith Band, and was seen on Jett's family's (now cancelled) reality show, The Willis Family last year going on a (chaperoned) date with Jett.
The Ashley did some sleuthing and it appears that Jett and Cory are set to tie the knot in January at the Willis Family home in Ashland City, Tennessee. (Wanna see their wedding registry? Of course you do!)
Jett's older sister, Jessica, recently got married herself. She quietly left the family band last year right before her father, Toby Willis, was arrested and charged with child rape. (He was sentenced to more than 40 years in prison earlier this year.)
The entire family seems to have cut all ties with Toby. On Jett and Cory's wedding website, it's revealed that Jessica will be one of Jett's bridesmaids, as will her sisters Jasmine, Jennifer and Juliette. Her sisters Joy Anna and Jamie will be junior bridesmaids and her little sister Jada will serve as flower girl. Jett's brother Jaeger will be the ring bearer.
The wedding location is very tellingly listed as "Brenda Willis' Property."
From the sound of the event description, the wedding reception will be a lively affair!
"Bring your instruments and dancing shoes for a fun time of celebration following the ceremony," the website reads.
Currently Jessica and Jett the only ones of the Willis' 12 children to have taken the step toward marriage. Their brother, Jeremiah, was previously engaged but that engagement ended in 2016.
"We disagreed on some things and so she gave me back the ring," Jeremiah later explained. "I decided that I was going to work with my family, tour with my family. She didn't want that, and so that's where we broke it off. Unfortunately, we don't even see each other or speak anymore. And I think that's very sad."
The family recently announced a new concert date. However, they have made no announcement about whether or not they will ever return to television.
Watch a cute video (made by Jett's brother Jackson) of Jett and Cory getting engaged:
(Photo: TLC)