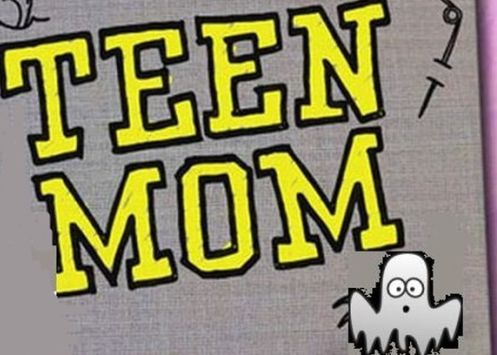 Get ready for the spookiest night of the year! No, Farrah Abraham isn't releasing another horrifying musical offering; it's just Halloween!
The Ashley has put together this list of her favorite 'Teen Mom' Halloween moments of all time. From cute costumes to terrifyingly awkward moments, get ready to celebrate Halloween, 'Teen Mom'-style! (Note: This story was originally posted in 2017.)
10. Catelynn comforts a crying Michael Myers (2015)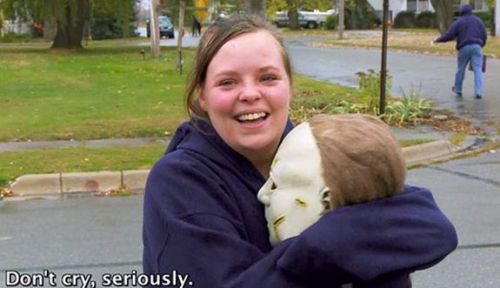 Catelynn Lowell chose Halloween night to leave for her honeymoon with her husband, Tyler Baltierra. This meant saying goodbye to her little brother, Nick, who was out trick-or-treating at the time. When Nick, dressed as Michael Myers, realizes Cate is leaving, her starts sobbing, and Cate comforts the sobbing serial-killer-costumed boy. The scene makes for a very strange screenshot, if nothing else.
9. Bentley is the cutest purple dinosaur ever (2011)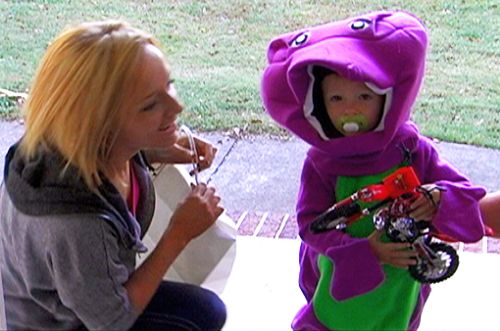 This classic 'Teen Mom' moment took place all the way back in Season 3. Bentley, then just a toddler, is dressed up as Barney the Dinosaur and is paraded through the neighborhood on Halloween night, on a quest to collect candy (as well as the hearts of every single 'Teen Mom' viewer!)
8. Amber turns her baby bump into the Great Pumpkin (2008)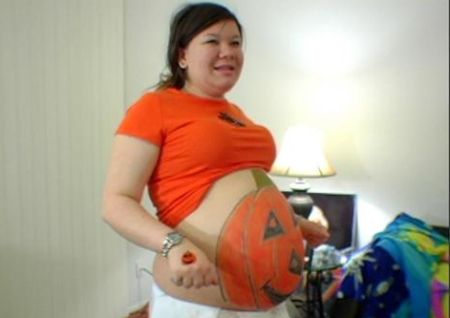 We have to dip into the "16 and Pregnant" archives to grab this Halloween moment! Way back in 2008, Amber performed what seems to be a requirement for all "16 and Pregnant" girls who find themselves knocked up over the Halloween holiday. She painted her large baby belly orange and turned it into a pumpkin. Her daughter, Leah, was born just a few weeks later.
7. Bentley pranks his dad Ryan (2015)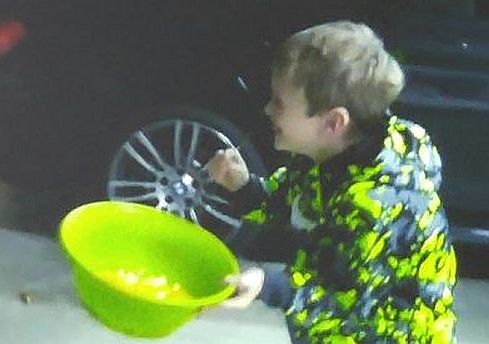 While pumpkin carving, Bentley's dad, Ryan, was teasing the boy for not wanting to get pumpkin guts all over himself. Bentley decides to get revenge on his dad later that night. With the support of the 'Teen Mom OG' crew and his grandma Jen, Bentley sneaks behind Ryan and proceeds to pour a whole bowl of pumpkin guts all over his dad's head!
6. Lincoln brings the cute…hard. (2014)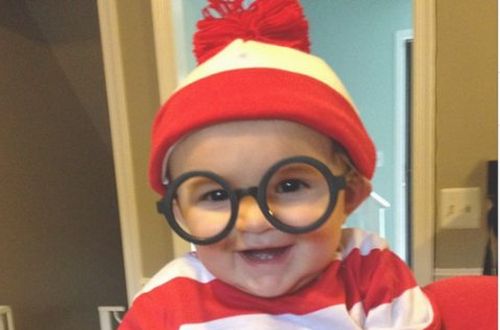 Lincoln, the son of 'Teen Mom 2' stars Kail Lowry and Javi Marroquin, was less than a year old when he was dressed in what may be the cutest Halloween costume ever (other than Bentley the Dinosaur, of course). His "Where's Waldo?" costume warmed the hearts of even the coldest 'Teen Mom' fans!
5. Debra wears a costume on the wrong day (2015)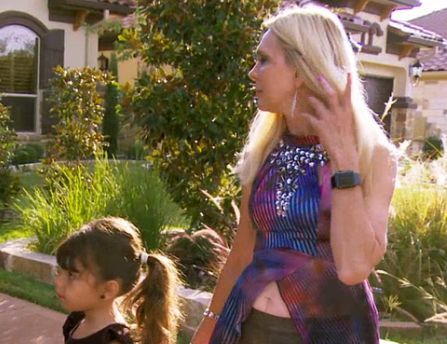 Poor Debra must have gotten her dates mixed up! Farrah Abraham's mom showed up to film in some sort of "1990s teen club-goer" costume. The only problem? It wasn't Halloween! This is unfortunate, of course, because Debra's pleather pants (yessss!) and rhinestone-covered, belly-baring halter top were amazing!
4. Jenelle basically goes naked. (Every Halloween until she met David)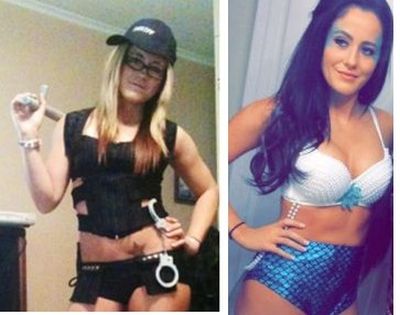 'Teen Mom 2' star Jenelle Evans could always be counted on to bust out a barely-there Halloween costume. From her "SWAT Team" getup in 2011 or her mermaid "costume" from 2015, which was little more than a bathing suit with plastic pearls hanging from it, Jenelle's costumes were classic.
3. Ryan takes too long getting ready for Halloween & misses everything (2015)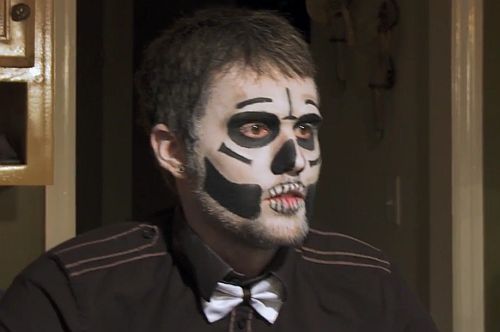 Ryan was supposed to go trick-or-treating with his son, Bentley, but things didn't exactly work out. Much like The Great Pumpkin, Ryan only rises [from his bed] once a year, but unfortunately, he didn't get up in time to make it to trick-or-treat. He spent a long time on his "way cool" skeleton costume makeup and ended up missing everything. Ryan kept trying to get validation from his son that his costume was "so cool" but Bentley barely seemed to notice. Ryan then scolded Bentley for not waiting for him to go collect free candy.
2. Farrah dresses up as a Disney character…to promote her sex toy line (2014)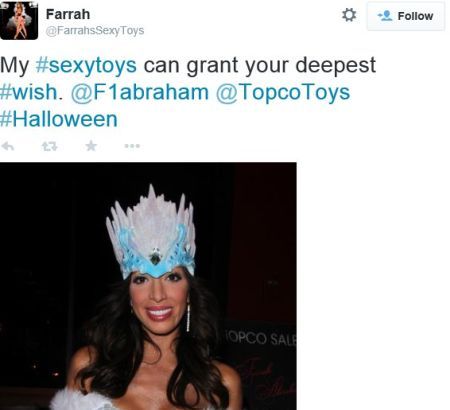 Farrah spent Halloween 2014 hawking her line of sex toys (as you do). For some reason, the "Backdoor Teen Mom" decided that it would be a good idea to dress up as Elsa from the Disney movie "Frozen" in order to promote her vibrators, butt molds and lubes.
1. Farrah stars in a "backdoor" sex tape. (2013)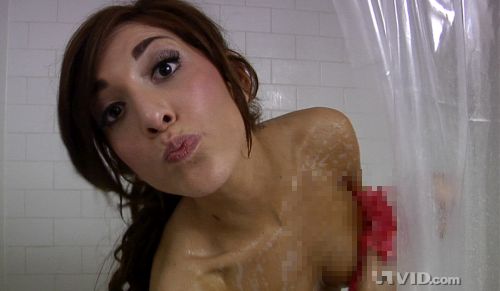 Watch a few moments of Farrah's "leaked" p0rn flick if you really want to be spooked this Halloween…ain't nothing scarier than that! (The Ashley still has to sleep with the lights after watching that infamous "limo" scene!)
Happy Halloween, kids! Don't be a bitch-of-a-human–don't drink and drive! If you're still in need of a costume idea, be sure to click here and here to see some of The Ashley's reality-TV-inspired costume ideas from previous years.
(Photos: Twitter, MTV)