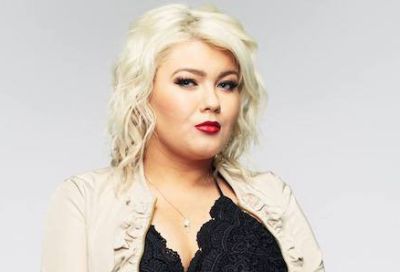 Surprise! Amber Portwood is expecting!
People magazine published an article on Wednesday that stated that Amber is pregnant, according to the magazine's source. The Ashley can confirm that Amber is, indeed, pregnant by her boyfriend of a few months, Andrew Glennon! 
The Ashley's sources tell her the 'Teen Mom OG' production and crew members have known for a while that Amber was pregnant (since around the time she and Andrew went to Hawaii, from what The Ashley hears.)
The pregnancy is also the reason that Amber was absent from the recent filming of various 'Teen Mom' specials in Los Angeles.
"The official word told to everyone was that she didn't come because she was sick," a source tells The Ashley, "but basically everyone knew it was morning sickness. She's been having a hard time so far, but Amber is totally thrilled about the pregnancy."
This will be the second child for Amber (who shares eight-year-old Leah with Gary Shirley), and the first child for Andrew.
Click here to learn more about Amber's newest baby-daddy, Andrew!
UPDATE! Amber has confirmed her pregnancy to Us Weekly!
"When I first found out, I was a little scared," she told the magazine. "I just kind of sat down and thought about it and realized that it was a big step in my life and it was a good thing actually, and I was really happy within 30 minutes.
"After the initial shock, it was nothing but happy thoughts and just enjoying my time with my boyfriend," she added. "We're both very happy."
Amber also told the magazine that she has been off the medications for her bipolar disorder for about three months.
"I wanted to see if I was just unhappy because of the things that were going on in my life at the time with him, and I realized after weaning myself off that I actually am OK," Amber said. "It's manageable as long as you have a healthy lifestyle and healthy people around you."
(Photo: MTV)