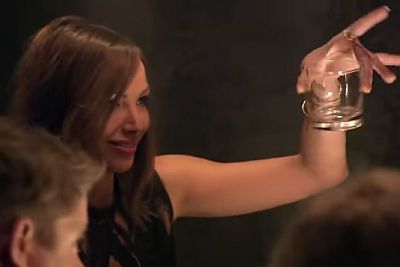 The first trailer for Vanderpump Rules Season 6 was released this week and, based on these two minutes of footage, it's safe to say we're in for another season of the SUR crew serving up a lot more than Pumptinis!
In the clip, Lisa Vanderpump, aka the HBIC and the one responsible for these heathens, dubs this the "calm before the storm."
In addition to the plethora of vacations we'll inevitably see the cast go on this season, we can look forward to Lala making her grand return (although let's be honest, she never really left), the bromance of Jax and James picking up where it left off at the Season 5 Reunion, and Katie and Lala putting the "summer body" drama of the past behind them for good… possibly.
In between slapping asses and simulating sex acts, we'll also see bartending duo Tom and Ariana experience some love on the rocks, Katie getting emotional (of course) and accusing Bubba (aka Tom #2) of screwing up (once again), and Stassi and Patrick being the opposite of relationship goals. (We all know how that last one ultimately turned out.)
In the clip we also see Scheana Marie — fresh off the heels of her divorce from Shay — throw her new romance in the face of the very people who watched her tie the knot two seasons ago (naturally) and former SURver Kristen, who we hope is still keeping her "crazy" in check…
Speaking of crazy, we see Jax working to get the anger voodoo-ed out of him in hopes of making things work with Brittany. The outcome of those efforts, however, doesn't look too good for the former playboy because after we see Lala throw a drink and Brittany throw a fist, he throws Tom #2's phone.
In the spirit of things, we're throwing our hands in the air in celebration of this hot mess making its return to our TVs.
Get your plate of fried goat cheese balls ready – Season 6 of 'Vanderpump Rules' premieres Monday, December 4!
Watch the first trailer below:
(Photo: Bravo)