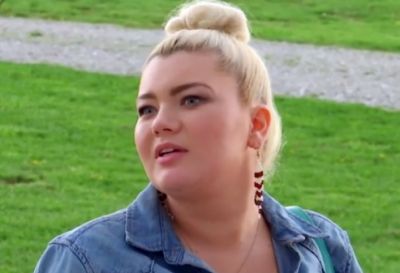 Amber Portwood and her newest baby-daddy, Andrew Glennon are telling Us Weekly all about their unexpected pregnancy, while Amber's family and Teen Mom costars are still reacting to the big baby news.
Last week, Amber confirmed that she and Andrew are expecting a baby, and in her new interview with the magazine, Amber revealed that she is currently two months along in her pregnancy. She's suffered a lot of morning sickness (so much so that she's had to miss out on two major 'Teen Mom' events—the filming of 'Teen Mom' specials in October and Debra Danielsen's wedding this past weekend.)
While Amber may be sick, she's not too ill to feast on cheap fast food and other strange food combos. She told Us Weekly that she has been snarfing Taco Bell (which 16 and Pregnant fans will remember she ate while in labor with her first child, Leah). She's also been making cheese, peanut butter and pickle cracker sandwiches (as you do.)
"But when I first found out I was pregnant, I really had a craving for that. My brother made it up when we were young. It's probably the weirdest craving I've had. That and chocolate milk."
Speaking of Amber's brother, Shawn "Bubby" Portwood, he recently revealed how he felt about his younger sister getting knocked up by a man she's only known for a few months.
"I want to say congrats. You know I love you and am excited for you," he tweeted after the pregnancy news broke. "But one issue though… I still haven't met your bf."
Some of Amber's 'Teen Mom' co-stars actually have met Andrew, when she brought him as her date to the MTV VMAs this summer. Many of the 'Teen Mom' franchise stars took to social media to express their excitement for the couple.
The Baltierras were among the first to congratulate Amber.
"Congratulations babe I love you and can't wait to see you a Friendsgiving," Catelynn wrote on Twitter, while Tyler tweeted, "CONGRATS AMB! We are so happy for you & can't wait to meet that little baby!"
(We have a feeling Amber and Andrew can expect a package of Tierra Reign clothing in the near future… whether they want it or not.)
"Congratulations to you babe!!! Teen Mom 2 star Kail Lowry tweeted.
Other 'Teen Mom 2' stars who sent their warm wishes included Leah Messer and Briana DeJesus.
"Congrats, hope it's a boy! Lol," Briana tweeted to Amber.
Debra Danielsen told The Ashley that she was thrilled for Amber and had no hard feelings that the morning sickness prevented Amber from attending her wedding. However, Debra's daughter, Farrah Abraham, brought some major shade with her congratulatory message.
"I wish her all the best with her unplanned pregnancy and all of her bulls**t," Farrah told In Touch Weekly at the wedding.
While Amber and Andrew have yet to announce the baby's gender, Andrew recently told someone on his Instagram that they "will know soon."
Amber and Andrew met while Amber and her ex-fiancé/father of the year Matt Baier were filming Marriage Boot Camp. Andrew, who worked on the reality show, reached out to Amber after production wrapped. (Click here to see what Matt had to say about Amber's unexpected pregnancy.)
This will be Andrew's first child, and Amber's second.
(Photo: MTV)