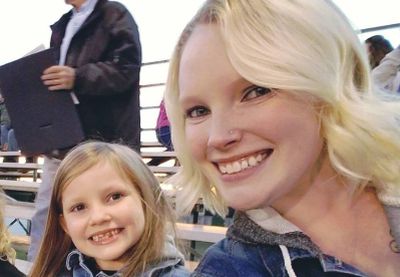 Lizzie Sickles has kept a low profile since appearing on the second season of 16 and Pregnant. (Unlike some of the girls from that season…)
However, Lizzie has joined Instagram to make several big announcements– she is getting married and is pregnant with her second child.
Lizzie, who is best remembered for marrying her daughter Summer's dad, Skylar Sickles, during her "16 and Pregnant" episode in hopes of having a "perfect" life, was divorced for years before meeting her current fiance, Dave Mortensen. The couple became engaged earlier this year.
Lizzie revealed on Halloween that she is due to give birth to Baby No. 2 in June 2018.
This will be the couple's fifth child overall, because, in addition to Lizzy's seven-year-old daughter Summer, Dave has three sons from another relationship.
(Summer's father, Skylar, is still in her life. He has welcomed another daughter since he and Lizzie divorced.)
Lizzie is one of the last girls from her season of "16 and Pregnant" to have another child. Of the 16 girls from Season 2, only Samantha Hernandez has not had any more children. (This is not counting Valerie Fairman, though, who starred on Season 2 but passed away in December 2016. She did not have any additional children.)
To read The Ashley's "16 and Pregnant Season 2 in Review" post from 2010, click here!
To see what the other girls from "16 and Pregnant" are up to, click here!