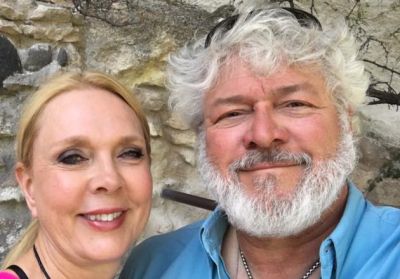 Now that her "DebzOG" wedding is over, Debra Danielsen is focusing on getting away with her new husband, Dr. David Merz!
The Teen Mom OG star, who got hitched last weekend in a rap-filled, under-the-sea-themed wedding extravaganza in Omaha, Nebraska, spoke to The Ashley about her honeymoon plans and what the future holds for her and David.
"We're going to go to Bora Bora, the isle of Moorea," Debz OG told The Ashley during her wedding reception. "I think we'll be gone a couple of weeks." (Debz had originally stated that she wanted to have her wedding in Bora Bora.)
Unfortunately, the couple has to put their honeymoon plans on hold until at least February 2018, due to David's work schedule. Unlike her recent trip to Italy (which included her daughter Farrah Abraham, granddaughter Sophia and ex-husband Michael Abraham and his new fiance Amy), this trip will only be for her and David.
"We're not dragging the whole family on this one! We going to go as soon as David is able to get back," Debra said of her new husband, who is an Infectious Disease Specialist. "Right now he's working in Indiana, filling in for doctors who are going on vacations. He's contracted out until February."
David had practiced medicine in Michigan but is now living with Debra in Iowa. He holds a medical license in the state of Nebraska, which indicates that he may move his practice close to where he lives with Debra.
Debz has a lot going on to keep her busy until she can honeymoon (and most likely spit rhymes) in Bora Bora.
"I want to start my new branding, and launch my new music," Debra said. (She showed a sneak peek of her new music video at her wedding reception…as one does.)
"My new book is coming out in January," she added. "It's [my 2014 book] Vapor but it's updated, with new pictures and new details about what's happened in my life since it was [first published]."
"I think David and I will bring out the best in each other and have even more amazing career opportunities."
(Photo: Facebook)