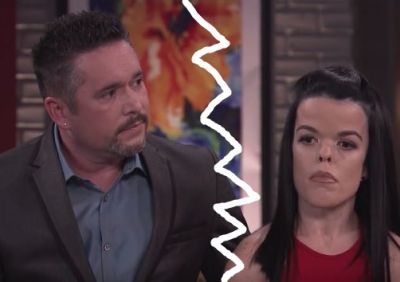 Briana Manson is finally throwing in the towel on her drama-filled marriage to Matt Grundhoffer.
The Little Women: LA star announced on Friday that she and Matt are ending their three-year marriage, which was a source of major drama on the show, due to Matt's admitted infidelity and flirting. The birth of the couple's son Maverick last year was not enough to save their doomed marriage, apparently.
"After 3 years, and bringing the most handsome little boy into this world, we have come to the end of our marriage," Briana wrote on her Facebook and Instagram pages. "We rode til the wheels fell off, and now we can redirect our course as friends focusing on being the best parents…"
TMZ reports that the couple officially split last month. They are reportedly still living together, but sleeping in separate rooms.
"There's zero chance of reconciliation, and divorce is looming," the site reports.
As The Ashley previously reported, Briana's family has accused Matt of isolating Briana from them. When Briana was hospitalized in April 2016, Matt allegedly refused to allow any of Briana's family members to visit or call her.
'Little Women: LA' fans seemed to have little use for Matt, either. In May 2016, a group of fans started a petition to have Matt (as well as Briana) booted from the show. However, Matt and Briana (and their drama) have remained on 'Little Women: LA.'
(Photos: Lifetime, Instagram)