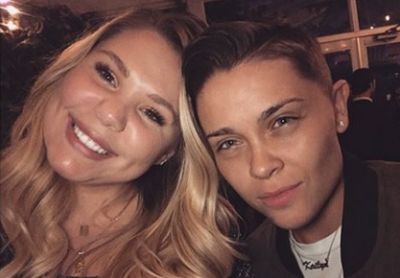 Javi Marroquin recently got himself a new girlfriend— and so did his ex-wife, Kail Lowry!
The Teen Mom 2 star, who has basically been falsely linked with every female friend she's ever taken a photo with, has actually confirmed that she is dating a woman. During Wednesday's episode of her Coffee & Convos podcast, Kail told her co-host Lindsie Chrisley that she is officially has a girlfriend.
"We were friends for a year and so it kind of just turned into [a relationship]," Kail said. "So, it's not like she was trying to wine and dine me to ask me to be her girlfriend, you know what I mean? It more or less just happened."
Kail did not specifically say who her girlfriend is, but she has basically confirmed (via social media) that it is Dominique Potter. Dominique accompanied Kail last weekend when she attended a fundraising event for Puerto Rico.
Kail has been open about being bi-sexual, and while random gossip sites have linked her to various female friends over the years, this is the first time that she's actually confirmed that she's in an actual relationship with one of these women. She has, however, stated that she has dated a few women in the past.
Kail was previously linked to her three baby-daddies– Chris Lopez, Jo Rivera and Javi (who is currently dating Kail's 'Teen Mom 2' co-star and current rival Briana DeJesus).
Kail expressed her thoughts on dating in a recent blog post.
"I'm a mom of three, and this is where I am in my life now," she wrote. "Don't be afraid to put yourself out there and find love whenever you feel you are ready. Even though mom life is crazy-busy, we deserve companionship, too."
(Photo: Instagram)