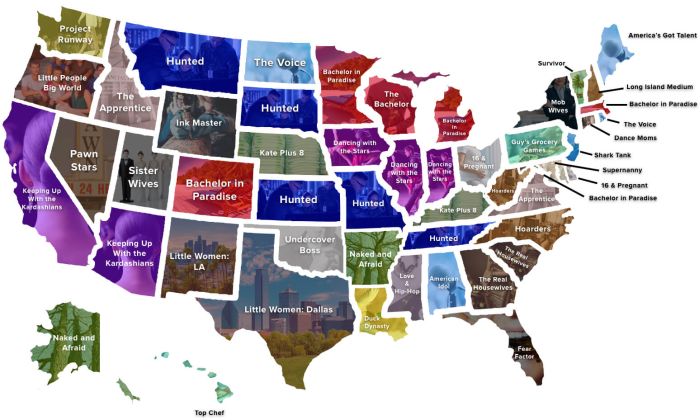 Do you ever see a reality show on TV and ask yourself, "Who in the world is watching this mess — (besides The Ashley)?" Well, we have answers… and also more questions after seeing some of these results.
CableTV.com has put together its annual report of favorite reality TV shows in each state. The site analyzed Google Trends data to determine each state's reality TV show obsession. While many of the winning shows are not a huge surprise, we're happy to tell you there are a couple of random front-runners — looking at you, Pennsylvania, and your love of Guy's Grocery Games.
This year, CBS's Hunted (the favorite in Montana, South Dakota, Kansas, Missouri and Tennessee) and ABC's Bachelor in Paradise (the top pick in Colorado, Minnesota, Michigan, Massachusetts and D.C.) are the lone standouts.
When it comes to reality TV, a lot of viewers seem to prefer shows set in their own state, evident by Keeping Up with the Kardashians being the favorite in California, Mob Wives being the top pick in New York and Texans loving Little Women: Dallas.
Also showing some hometown love is Nevada, favoring the Las Vegas-set Pawn Stars, Louisiana's pick of Duck Dynasty and Oregon's favorite reality show being Little People, Big World.
While MTV hasn't aired any new episodes of 16 and Pregnant since 2014, the show oddly came out on top in Delaware and Ohio. The report shows a similar situation in Alabama, which names American Idol as its favorite reality TV show, despite the show concluding in 2016. (Alabama folks are probably thrilled about the show's revival and return to TV coming in 2018.)
Also favoring the reality singing shows are North Dakota and Rhode Island, who enjoy watching The Voice, and Maine, whose favorite reality TV guilty pleasure is America's Got Talent. A number of other states prefer their talent shows with a dash of celebrity, with The Apprentice being the favorite in Idaho and Virginia and Dancing with the Stars having the largest fan base in Illinois, Indiana and Iowa. The folks in Utah love them some Sister Wives!
The report also shows that The Real Housewives fandom is the strongest in the southeast, with Georgia and South Carolina being the most obsessed with all things drama and table-flipping, while viewers in Alaska and Arkansas prefer watching Naked and Afraid contestants rough it in the wilderness, sans clothing.
As for Nebraska and Kentucky naming Kate Plus 8 as its top pick… Guy's Grocery Games just got a lot more enticing. We take back what we said, Pennsylvania!
In an additional survey from the CableTV.com team, male and female participants agreed 'KUWTK' is "far and away the most annoying reality TV show," while Teen Mom, Big Brother, Jersey Shore and Survivor were named the top favorites.
As for the most nostalgic shows, MTV programs received some love as participants aged 18-24, 25-34 and 45-54 named 'Teen Mom' as the most nostalgic (?), while 35-44 year-olds said 'The Real World' stood out as the most nostalgic. Strangely, the youngest and oldest demographic surveyed — 14-17 year-olds and those over 54 — named Cheaters as the most nostalgic show.
Here's a listing of each state's favorite reality TV show, according to CableTV.com's research:
Alabama: American Idol
Alaska: Naked and Afraid
Arizona: Keeping Up With the Kardashians
Arkansas: Naked and Afraid
California: Keeping Up With the Kardashians
Colorado: Bachelor in Paradise
Connecticut: Dance Moms
Delaware: 16 and Pregnant
Florida: Fear Factor
Georgia: The Real Housewives
Hawaii: Top Chef
Idaho: The Apprentice
Illinois: Dancing With the Stars
Indiana: Dancing With the Stars
Iowa: Dancing With the Stars
Kansas: Hunted
Kentucky: Kate Plus 8
Louisiana: Duck Dynasty
Maine: America's Got Talent
Maryland: Supernanny
Massachusetts: Bachelor in Paradise
Michigan: Bachelor in Paradise
Minnesota: Bachelor in Paradise
Mississippi: Love & Hip Hop
Missouri: Hunted
Montana: Hunted
Nebraska: Kate Plus 8
Nevada: Pawn Stars
New Hampshire: Long Island Medium
New Jersey: Shark Tank
New Mexico: Little Women: LA
New York: Mob Wives
North Carolina: Hoarders
North Dakota: The Voice
Ohio: 16 and Pregnant
Oklahoma: Undercover Boss
Oregon: Little People Big World
Pennsylvania: Guy's Grocery Games
Rhode Island: The Voice
South Carolina: The Real Housewives
South Dakota: Hunted
Tennessee: Hunted
Texas: Little Women: Dallas
Utah: Sister Wives
Vermont: Survivor
Virginia: The Apprentice
Washington: Project Runway
West Virginia: Hoarders
Wisconsin: The Bachelor
Wyoming: Ink Master
(Photo: CableTV.com)