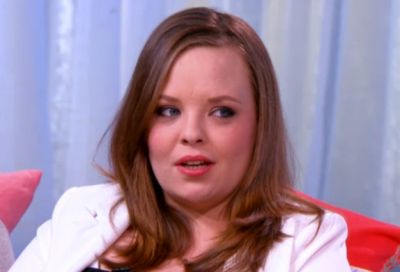 Catelynn Lowell announced on Friday that she is entering a treatment facility for to get help for her mental health issues. The Teen Mom OG star revealed she was having suicidal thoughts, which was the reason she decided to get help.
"Well today I thought of every way to kill myself.. so I'm going to treatment," Catelynn tweeted, using the hashtag #MakeChesterProud, a reference to Linkin Park singer Chester Bennington, who committed suicide earlier this year.
On Instagram, Catelynn posted a photo of a stuffed horse which she explained belonged to her daughter, Nova.
"Well Nova buddy is coming with me… and I'm gonna hold it close to my heart the whole time… #thiswontlast#thiswontstopme #keeptalkingmh," she captioned the photo.
This is not the first time Catelynn has sought treatment for her mental health issues. In March 2016, she checked into a rehab facility in Arizona, where she stayed a few weeks. Her depression and anxiety issues have been a large part of her storyline on 'Teen Mom OG.'
Catelynn's husband Tyler Baltierra took to social media to applaud Catelynn for seeking help.
"Incredibly proud of my wife…when she thought she had no choices left, she reached out & decided to LIVE today!" he wrote on Twitter. "My life would be desolate without her in it. You are beautiful, strong, worthy & loved."
Catelynn's father David Lowell also congratulated her on getting treatment.
"Love you Catelynn. Get well soon," David wrote on Instagram. "You are without a doubt one of the strongest women i have ever known, or will ever know. I'm very proud to call you my baby girl. #getwellsoon #Dadlovesyou"
It is not known where Catelynn is seeking treatment at this time, or how long she will be gone. She and Tyler are currently filming for the upcoming season of 'Teen Mom OG,' but it's unknown if her trip to rehab will be incorporated into the show or not.
(Photo: MTV)