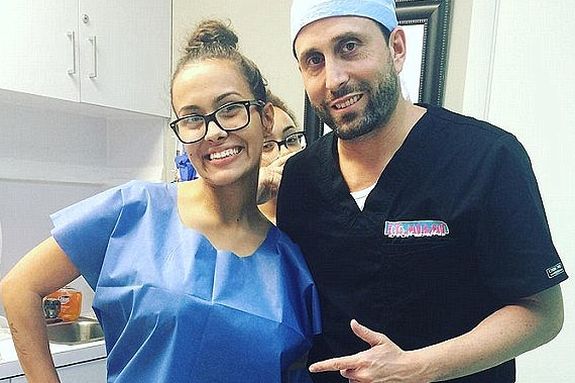 Snapchatting plastic surgeon Dr. Miami has announced that he will be carving on Teen Mom 2 star Briana DeJesus once again!
The WEtv reality star told Radar Online that he will be giving Briana yet another brand-new butt, belly and boobs! Briana checked in with the good doc earlier this week and has confirmed that she's excited to get another new body in February.
"She wants to correct some of the baby damage that was caused by her latest pregnancy," Dr. Miami told Radar. "Her butt got too big during her last pregnancy so we are going to narrow out her booty and shape this time around."
And that's not all: Dr. Miami also confirmed he's giving 23-year-old Briana some Botox as well as another tummy tuck and a breast lift.
As The Ashley previously reported, Briana, her sister Brittany and Briana's now co-star (and feud partner) Kail Lowry all went under Dr. Miami's knife in January 2016. They allowed the doc to broadcast the procedures on Snapchat in exchange for having their surgeries comped.
While Briana seems to be on-board to be snapped while being tucked and sucked for a second time, her former surgery partner, Kail, is not.
Kail confirmed to The Ashley that, while she doesn't regret getting plastic surgery, she does regret putting herself on display while getting surgery last time.
"I had such a great experience with Dr. Miami and he did a great job, but if I choose to have any more procedures done in the future, I probably wouldn't have them filmed," Kail told The Ashley in an email. "I am more conscious now of how everything I do has an effect on my kids, so I would probably choose to keep that kind of thing private going forward.
"It was hard being so exposed the first time and if the time comes when my kids are asking about it, I'll talk to them about it," she added.
Briana, though, seems thrilled for her second trip to Dr. Miami's Snapchatted operating room. In May, she revealed that she had Dr. Miami on speed dial to help her fix her body after delivering her second daughter, Stella. (It appears that Briana is going to leave her baby chute alone this time around, though.)
Briana's surgeries are comped, (although The Ashley has heard that the girls who go under Dr. Miami's knife do have to pay their own anesthesia costs).
For those of you trying to follow along at home, that means that by next year, 23-year-old Briana will have undergone three breast surgeries, a labioplasty, liposuction, a Brazilian Butt Lift and a tummy tuck. She is about to give her fellow 'Teen Mom' co-star (and plastic surgery enthusiast) Farrah Abraham a run for her (MTV) money for most plastic 'Teen Mom!'
Here's a photo of Briana during her latest visit to Dr. Miami's office!
(Photo: Instagram)