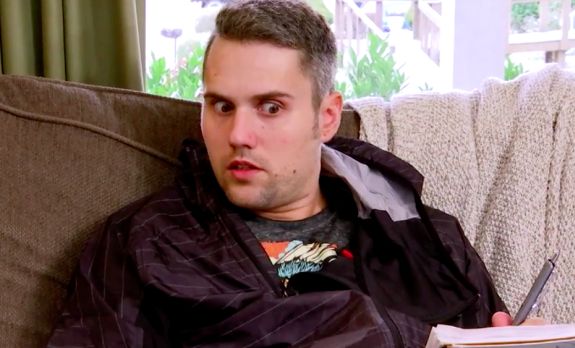 Was Teen Mom OG dad Ryan Edwards spending $10,000 a week on drugs? Well, according to his wife, Mackenzie Standifer, he was!
The season premiere of 'Teen Mom OG'  kicked off with Ryan at a drug rehab in Dallas. And, naturally, MTV followed Ryan down to the Lone Star State. Mackenzie also trekked down to Texas, staying in a rental house near Ryan's rehab.
During one scene from Monday's premiere, Mackenzie told Producer Kiki that Ryan had been spending a small fortune to get "high high high!"
"He said that he was using three times a day," Mackenzie told Kiki. "$10,000 a week!"
"That's a s**t ton of money," Kiki said. (Poor Kiki was probably wondering why she has to make a living following these teen drama queens around while they blow way more than her weekly salary on drugs.)
In June, Ryan released a statement that revealed he checked into rehab in May, one day after marrying Mackenzie the first time (after taking a drug-induced wild ride to the ceremony.)
On her just-launched blog, Mackenzie described how Ryan being in rehab affected her.
"I moved to Texas when Ryan went to rehab," she wrote. "I was alone, I was scared, I was simply broken. The 11-hour drive to Texas was more than needed for my soul searching. I did a ton of praying, a ton of crying, but in the bottom of my heart I had a ton of hope…
"I keep reminding myself that when my house is dirty, I don't burn it down and get a new one," she added. "I clean it from the inside out and make it whole again, and that is what we have been up to for the past six months."
During the premiere episode, Mackenzie also revealed that she thinks Ryan's baby mama, Maci Bookout, has a negative effect on Ryan's sobriety. (Maci and Mackenzie famously battled during last season's Reunion special. Who could forget the infamous letter Mackenzie penned to blame Maci for "exploiting" Ryan?)
"We had to do one-on-one therapy," Mackenzie said. "Oh my gosh. The therapist was like, 'What do you think his triggers are?' And I said one name and boy was he …"
"You literally said Maci's name and he was already triggered?" Kiki asked.
"He's pissed," Mackenzie said. "Ryan feels like he's been belittled and like he's never been given any credit— which he hasn't. And the more I think about it, the more mad I get. All of a sudden it's, 'Oh, I have no communication with Ryan.' Yes, you do, and I watch you sit there and ignore his texts. Ryan is not a bad guy, and my blood boils because she literally does this for her own self, and it really is just pissing me off."
Also in the premiere episode, Maci spoke with her best friend Keelie about Ryan's recovery.
"I don't know if he's just looking to do 30 days and come home… or maybe go to a halfway house," Maci said. "I have no idea. I hope those are the steps that he takes because I don't feel like it'll be fixed in 30 days."
This was not Ryan's first stint in rehab, however. Back in June, Ryan's ex-girlfriend Dalis Connell revealed that Ryan had also gone to rehab in 2012, but did not end up completing his stay.
As The Ashley previously reported, Ryan's most-recent rehab stint was less than 30 days, actually. His family has stated that he has remained sober, though, and at his recent (second) wedding, he looked healthier than he had in a loooong time.
(Photo: MTV)