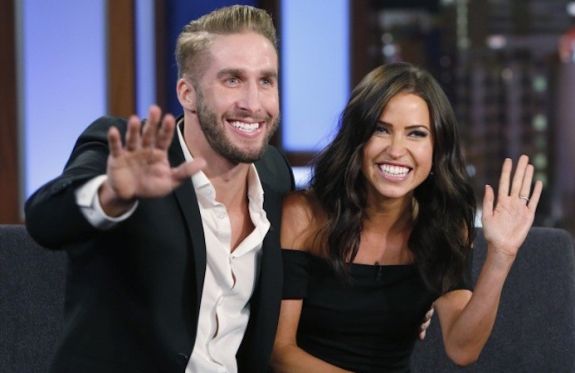 Kaitlyn Bristowe and Shawn Booth met and became engaged during Kaitlyn's season of The Bachelorette, but the couple is now taking shots at the franchise that brought them together!
In a new sit-down interview with The Morning Breath, Kaitlyn and Shawn talked about how the 'Bachelor' franchise is changing–and not for the better– which may be the reason so few relationships from the shows are lasting. 
When a fan pointed out (via an online question read on the air) that the "quality of men [who are chosen to be on 'The Bachelor' shows] is getting worse," the couple agreed.
"[The producers] don't care anything about the relationships!" Shawn said. "They don't care if a relationship works. They just want the ratings!
"They don't care if you end up together, and if you don't, whatever that's cool, as long as they get the ratings," he added. "They do want a happy ending…
"…for ratings!" Kaitlyn clarified.
The couple agreed that the producers can choose whoever they want as the star of the show and loyal fans will still tune in.
"People are still going to watch," Shawn said. "It doesn't matter who they cast."
Shawn and Kaitlyn are one of the few couples from the franchise who are still together. While they haven't made it down the aisle yet (and seem to be in no hurry to do so), they are still engaged two-and-a-half years after their engagement episode aired, which is quite a feat in the 'Bachelor' World.
"We definitely liked taking a break [from being on TV] and getting to know each other," Kaitlyn said. "People are like, 'Come on, you've been engaged for two years' and I'm like, 'We've also only known each other for two years!'"
While a wedding may not be in the works for 2018, Kaitlyn and Shawn seem to have something else planned. The couple hinted that we may be seeing their mugs back on our TV screens soon enough.
"Maybe we're in talks right now…" they said cryptically.
The couples from 'The Bachelorette' have been much more successful than the couples from 'The Bachelor.' To date, six out of the 13 Bachelorettes (about 46%) are still with their picks from the show. In comparison, only two out the 21 Bachelors are still with someone from the show. (That comes to a pathetic 9%.)
The next guy to try to beat the odds will be Arie Luyendyk, Jr., whose season of 'The Bachelor' premieres January 1, 2018 on ABC.
(Photo: ABC)