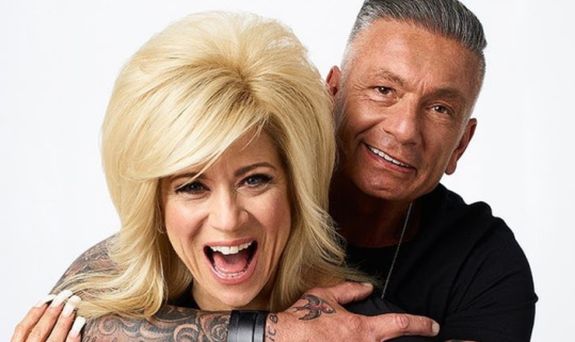 The Long Island Medium is seeing divorce court in her future!
Theresa Caputo and her husband of 28 years, Larry, announced in a joint statement on Sunday that they are splitting.
"After 28 years of marriage, we have decided to legally separate," the statement to People magazine reads. "We will always love each other and our two wonderful children. We are united in supporting each other and our family. Please respect our privacy during this time."
Larry and the couple's two adult children, Larry Jr. and Victoria, have appeared on 'Long Island Medium' alongside Theresa since the show began in 2011. The show's 10th season is currently airing on TLC, but fans have noticed Larry's absence on recent episodes.
Last month, an episode of the show showed Theresa confessing to a friend that her marriage to Larry is on the rocks.
"Since the last season of 'Long Island Medium' and through a period of time, Larry and I's relationship has changed," she said in the clip. "We've been there for each other, you know, through thick and thin, you know, good times, and right now are not such great times. I don't understand it. I lay in bed, and I say to myself, 'How did this happen? How did I get here?'"
Theresa and Larry have yet to address the split on their social media accounts. 'Long Island Medium' is currently airing on TLC.
(Photo: TLC)