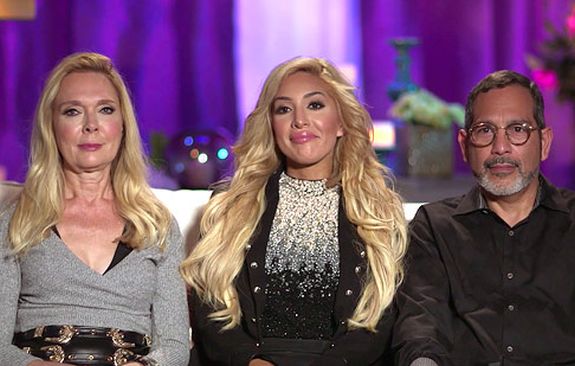 The wedding bells keep ringing for the cast of the Teen Mom franchise!
Just in the last two months, Teen Mom OG star Debra "Debz OG" Danielsen married Dr. David Merz, and Ryan Edwards remarried his wife Mackenzie Standifer. (Not to mention Amber Portwood's former soulmate Matt Baier got randomly hitched earlier this week.)
However, there are more 'Teen Mom' weddings on the horizon! While Farrah Abraham is (still) waiting to get proposed to, her father Michael Abraham is currently engaged to his longtime girlfriend Amy.
The Ashley chatted about Michael's upcoming wedding, and also got his opinion on his ex-wife Debz OG getting remarried.
"I'm very happy for her, I wish her only the best," Michael said of Debra, whom he split with during the early seasons of 'Teen Mom.'
Viewers watched Michael get into it with Debra's new groom, David, during the Season 7 premiere episode of 'Teen Mom OG.' (Click here to read The Ashley's account of that fight when it went down back in May!)
From the sound of it, things are still not chummy between Michael and Dr. David all these months later.
"We have yet to have the opportunity to have a good relationship," Michael told The Ashley. "At this point it's hands off…the viewers will have to watch the upcoming season!"
Michael was not present when Debra and David said "I do" in Omaha, but he said that had nothing to do with his past beef with David.
"We were not invited and we would not have attended anyway because that was Debra's and David's day and we wish them all the happiness in the world!" Michael said. "We would not want to distract from their day."
Another person who was noticeably absent at Deb's November nuptials was Sophia, Farrah's daughter. Michael confirmed that the little girl was with him while Farrah attended the wedding festivities.
"Sophia has always been with family (us) if Sophia is not traveling with her mother," Michael said.
(When asked why Sophia didn't go to her grandmother's wedding, Michael replied, "That's a question for Farrah and Sophia to answer, not me.")
As for his own wedding, Michael said that he and his fiance Amy have not set a date yet, but he plans on having Farrah and Sophia present when he says "I do."
"Sophia and Amy's grandchildren will most likely be in the wedding party," he said.
There are a few people who should not be expecting "Save the Date" cards in the mail, though. Michael said he will not be inviting MTV to film the wedding for 'Teen Mom OG.' Deb and Dr. David will also not be present.
"In good taste, no we won't invite them," Michael said. "It will be Amy's and my day, the way it should be!"
To read Part 1 of The Ashley's interview with Michael (where he dishes about Farrah's getting 'fired' from 'Teen Mom OG') click here!
Stay tuned for Part 3!
(Photo: WEtv)