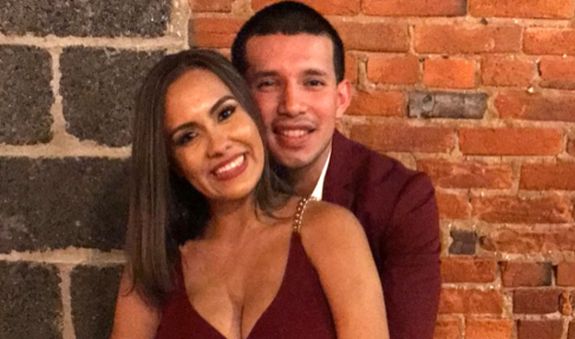 Teen Mom 2 couple Briana DeJesus and Javi Marroquin have been dating for less than two months, but it seems that this match made in MTV heaven is already dropping those three magic words: I love you.
Javi expressed his love for Bri this week by commenting on a photo of the two of them that Briana posted to social media. Accompanying the photo Briana posted was a shout out she wrote to Javi for "being such an amazing man" to her and her two kids.
Of course, being that this is Briana we're talking about, so she couldn't end the sentiment there and had to conclude the post with a "#yeaididwin." (She has since deleted it.)
Anyway, if Briana's new shady hash tag didn't send Kail over the edge, we're sure Javi's response did the trick:
"Thank you for being so good to me," Javi wrote to Briana. "I never take that for granted. I love you." (The comments for the post are no longer visible, but if you want to see what the original post and comments looked like, click here!)
Quick to come to Kail's defense (of what, we're not exactly sure) was her friend Bone Estrada, who tweeted that the only thing Briana won was a small banana emoji… (if ya catch her drift.) Kail responded to Bone with a hashtag of her own: "#iwon more time with my son."
Bone was lucky (or unlucky) enough to have a front row seat to the drama that went down at the last 'Teen Mom 2' Reunion. As The Ashley previously told you, a big fight erupted in a backstage makeup room during the Reunion filming between Briana (as well as Roxanne and Brittany DeJesus) and Kail. The Ashley's source tells her that Bone was also in the room when the catfight went down.
Bri responded to Bone's tweet about the size of Javi's trouser snake by threatening to beat the BeJesus out of her.
"U lucky I had Stella in my hands cause I woulda smacked the s**t outta you," Briana tweeted to Bone. "I hope u and ur girls keep that same energy next time when I see u."
Man, Teen Mom 2 might be on hiatus, but that group is still churning out the drama like it's their job!
Oh wait…
(Photo: Snapchat, Instagram)