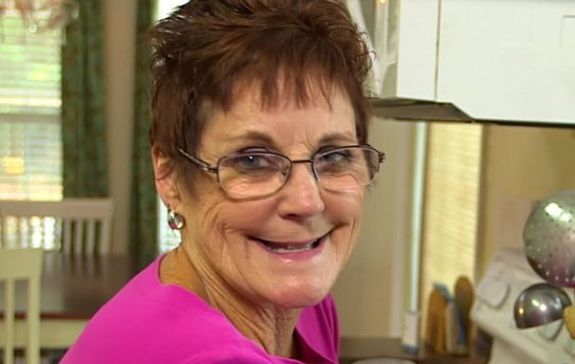 Barbara Evans is celebrating a well-earned retirement!
The Teen Mom 2 grandma, who has spent many years slicing honey-glazed ham in the deli of a North Carolina Walmart, announced on Wednesday that she has finally retired! Barb has caught a lot of flak from her "bitch of a daughta" Jenelle Evans for working at Walmart. (Who could forget when Jenelle made fun of her mom's job and announced her own plans to save the world via medical assisting…that never happened?)
Anyway, Babs posted a photo to her personal Instagram page on Wednesday of a partially empty glass of wine and some Christmas decorations, along with the caption, "Happy retirement to me!!"
Barbara has long been one of the only people featured on 'Teen Mom 2' who still maintains a "regular" job (outside of being on the show). The 64-year-old currently has full custody of her grandson (and Jenelle's son) Jace.
Congrats to Babs…although we are sad to hear that we will not get to hear her say "Waaaahl-maaaart" on the show as much anymore!
UPDATE! Apparently, Babs' retirement was not as happy of an occasion as it originally appeared. In a post on her personal Facebook, Barb revealed that she was let go after putting in her three-week retirement notice.
"Well I gave my three week notice at Walmart last week," Barb wrote on Facebook a few days ago. "They told me they don't need me anymore, turn in my badge. Wow 12 years I gave to them and in the end I was treated like a dog. No thank you for my 12 years of service. COLD-HEARTED. Oh well, happy retirement to me! I still have my MTV job!"
Check out this pic from Barb's days working at the 'Mart!
(Photos: MTV, Instagram)