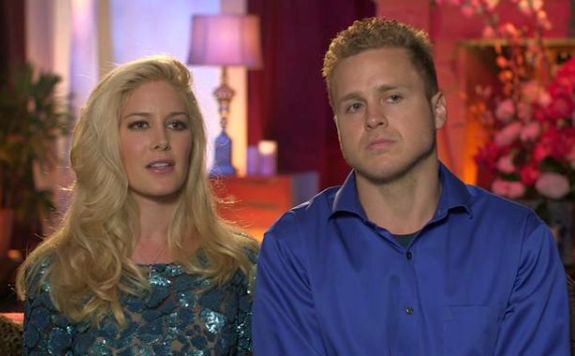 For the past decade or so, the word "Ridiculous" and Heidi Montag and Spencer Pratt have sort of gone hand-in-hand, but recently the reality stars (and new parents) brought their ridiculouness to a whole new level!
The former stars of The Hills have shared their 2017 Christmas Wishlist with Page Six (as you do). Unlike Heidi's 2016 list, which contained relatively tame items like a Gap gift card and a homemade card, the 2017 list is full of pricey (and downright weird) potential Christmas treats.
We're not exactly sure who is supposed to be buying these gifts for Heidi and Spencer; Is it their fans? Friends? Lauren Conrad?
Let's take a look at what Heidi and Spencer are hoping to find in their Fit Tea-sponsored stockings this holiday season…
5. A $4,000 Chanel Diaper Bag
Heidi and Spencer aren't regular parents, they're cool parents, which is why they need a purse worth $4k to carry around Baby Gunner's diapers and wipes.
"The Chanel diaper bag is a dream item, and since I don't care about other bags anymore, I figure it's worth the splurge," Heidi told Page Six.
4. Backstage Passes to a Taylor Swift Concert
The couple wants to take a family vacay—to meet and greet T-Swift.
"I'm going to try to get Taylor Swift backstage tickets," Heidi said. "I'll make it a family trip, I'll take Gunner too." (Isn't that just what an infant needs: hours of listening to Taylor sing about how much she hates Katy Perry?)
"My life will be over if I'm not there snapping, dancing and singing," Spencer agreed.
3. A $4,500 Espresso Machine
"I'm trying to be a world class barista and I need to be rocking elite coffee level," Spencer said. (We think he's being sarcastic there but…this is Spencer so it's kind of hard to tell.)
2. Almost $4,000 in Weights
Spencer apparently wants to get his fitness on via a ridiculously expensive weight set.
"I'm here pushing kilos," Spencer said. (Ummm…of what? Is that why you have crazy eyes, Spence?)
1. A BMW M3 starting at $64,000
Naturally, the couple is hoping that their Christmas treat pile also includes a car. And, because this is Heidi and Spencer, a regular Toyota Corolla just won't do!
"Pratt Daddy needs to be stunting in the preschool parking lot," Spencer said.
MAKE.IT.STOP.
If you want to see Heidi and Spencer's complete Christmas list, click here!
If you want to buy gifts for people who actually need things, please click here or here to help buy holiday gifts for senior citizens and children in need.
(Photo: WEtv)