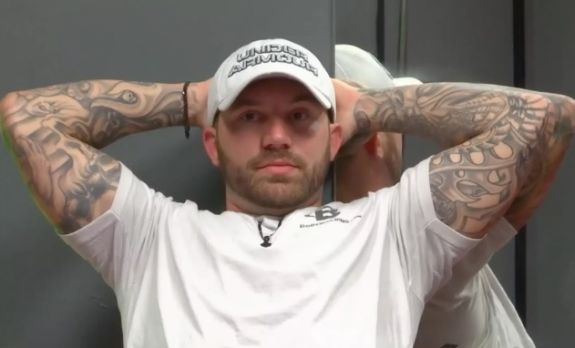 Adam Lind is (once again) back behind bars!
The Teen Mom 2 dad landed himself back behind bars on Tuesday, making this his second arrest in the span of one month. (It is, of course just the latest in a string of 30+ arrests Adam has had in his lifetime!)
Online records confirm that Adam (who is the baby daddy of Chelsea Houska's daughter Aubree) was booked into the Minnehaha County Jail in South Dakota on Tuesday, December 5 and that he is currently being held there without bail. He is charged with "Violation of Conditional Bond No Contact in Domestic Arrest."
Just last month, Adam was arrested for domestic simple assault against Brooke Beaton in nearby Lincoln County, South Dakota.
Brooke Beaton accused Adam of stalking her back in December 2014. (Those charges were later dismissed.) She has a "no contact" order against Adam, and it appears that this is the no contact order Adam violated in order to land himself in the slammer this week.
(The Ashley hears that Brooke and Adam are still seeing each other, and that she is trying to get the no contact order dropped!)
His other ex, Stasia Huber, also holds a restraining order against him. According to The Ashley's sources, Adam's hearing in regard to that restraining order was held on Wednesday. He didn't show up and the judge granted the restraining order for five years. 
That same day, Wednesday, Adam was arrested for violating a no contact order stemming from the domestic assault case involving Brooke.
(The Ashley knows this is confusing and she apologizes, but Adam has a lot of exes with legal issues against him!)
It should be noted that Stasia is at least the third ex-girlfriend of Adam's to accuse him of domestic violence. In addition to her and Brooke, Adam's ex Jessica (who appeared on several episodes of 'Teen Mom 2') also claimed that Adam had gotten physically violent with her during their relationship.
In an Instagram rant in October 2014, Jessica claimed that Adam paralyzed her dog and was abusive during their relationship.
There are more court dates in Adam's future. On December 21, he is due in court to deal with the four counts of causing bodily harm against Brooke. He has pleaded not guilty to those charges.
As The Ashley revealed earlier this year, Adam had tested positive at least twice for drugs during court-mandated drug tests. Adam's results showed that he had used meth and amphetamine. The aftermath of the tests later played out on 'Teen Mom 2.'
Adam has not appeared on 'Teen Mom 2' since Season 7. Before quitting the show, he frequently lashed out at the network and the show's production crew about not wanting to be filmed. He's had some life changes in recent months. According to the reliable @TM2Deadbeat Instagram page, Adam moved back in with his parents due to some financial issues he's been having. He is reportedly renting out his house.
UPDATE! Adam was released from jail on Wednesday night. His bond was dropped after he agreed to show up to his next court hearing.
(Photo: MTV)