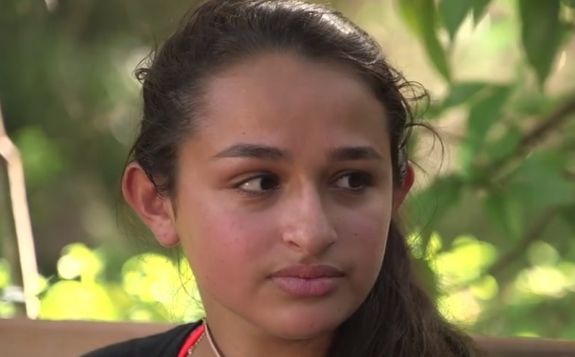 Jazz Jennings is back for another season of her TLC reality show I Am Jazz, and, judging from the just-released sneak peek clip of the season, it appears she's facing some very adult issues in the new year.
The 17-year-old activist will explore dating, sexuality, trans rights, and body image in the show's fourth season, which premieres January 2 on TLC.
In the sneak peek clip, first published by People, we can see Jazz getting set up on a blind date—with another young woman. Jazz has explored dating guys in the past, but this is the first time she considers dating another girl.
"I happened to meet a girl who I think you would really like," Jazz's friend tells her.
At first, the teenager is unsure if she wants to date a girl but then she decides to give it a try.
"This is a good time to experiment with my sexuality," she says.
She meets the girl on a group outing and then later spends one-on-one time with her. In the clip, it appears that a romance may be blooming.
"The more I get to know her, the more I am attracted to her," Jazz says.
Also in the fourth season, we will see Jazz struggle with weight gain. She says her eating habits are "out of control" and is later upset when her doctor tells her she must lose 30 pounds before she can have her gender confirmation surgery.
"I really feel like a beached whale," Jazz tells her friends.
We see a montage of her working out and struggling to eat healthier.
This season will also show Jazz dealing with some of the criticism she has faced for living her life as her authentic self. In the clip she gets into an argument with a man who disapproves of the transgender community.
"You don't love who you are. You were born a certain way, you don't love how you were born apparently," he tells her.
"Don't tell me if I don't love myself because I know who I love, not you," she replies.
One person who has been very outspoken publicly about his dislike of Jazz's lifestyle is her TLC co-star Derick Dillard. Derick, who up until recently starred on Counting On alongside his wife Jill and her family, has made several online attacks on Jazz in 2017 and has condemned the transgender community. His postings ended up getting him fired from 'Counting On' earlier this year.
It's not yet known if Derick's comments will be addressed on the upcoming season of 'I Am Jazz.'
Watch the sneak peek clip of the new season below!
(Photo: TLC)