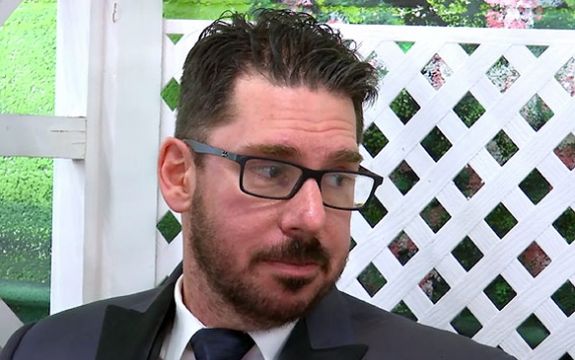 Last week, The Ashley broke the bombshell news that Amber Portwood's ex-fiance, Matt Baier, randomly got married to a woman in Las Vegas. After the news broke, the happy couple (who only knew each other a few months before getting hitched) did an interview with Radar Online, with Matt's new bride, Jennifer Conlon, singing his praises.
"He's my best friend," she said, "He loves me for me. We look forward to having a beautiful life together. My life led to finding my soul mate."
Now The Ashley can exclusively reveal more about the soulmates' wedding in Vegas, which took place on November 24.
Matt really tried to get Amber to marry him during a trip at the Little White Wedding Chapel in Vegas, but for his wedding to Jennifer, the couple headed to an even classier spot: The Little Neon Chapel!
Wanna see their marriage license? Of course you do! CLICK HERE!
The chapel is located in the "Neonopolis" shopping center in Downtown Las Vegas. It appears that Matt and Jennifer opted for the traditional ceremony, which takes place in a small room inside the shopping center with a backdrop featuring a photo of the Las Vegas sign.
(They could have shelled out a few extra bucks to have one of the chapel's Elvis impersonators marry them. The chapel offers both Elvis for $150 more and a little person dressed as Elvis for $200 more, naturally. Perhaps Matt couldn't locate that backpack 'o' cash he got from Amber in order to spring for the big wedding?)
It does not appear that any of Matt's many adult children attended the festivities, as the couple's witness seems to be a person they do not have any relation to and was likely supplied by the chapel.
In their interview with Radar, Jennifer declared that she didn't watch Matt on 'Teen Mom OG.' (The Ashley's sources tell her this is not true and that Jennifer recognized Matt from the show when they met.)
She also stated that she's not letting all of the horrible things Matt did on the show sway her opinion of him.
"When you meet somebody and you have a connection, you know it in your heart," the 35-year-old said. "It's not something you question. It felt right to us. Getting married is something we wanted. We decided it was time, so he asked me to marry him.
"Matt is a wonderful man," she said. "What people think of him and how he's portrayed, that's not the man he truly is. He is everything and more. He's generous and loving. It's unfortunate that people think differently. Matt is a good man, yet he gets attacked in a way I don't understand. That's not the person in front of me. His actions don't show that."
November was quite the big month for Jennifer. According to The Ashley's sources, Jennifer was arrested for DUI on November 7 after totaling Matt's Cadillac in Las Vegas.
Although Amber has yet to speak out publicly about Matt's trip down the aisle, another 'Teen Mom OG' star– Farrah Abraham— was more than happy to express her thoughts on the nuptials.
"Congratulations to Matt!" she told In Touch Weekly. "I mean, to honestly say — all my congratulations to Matt for getting married, because the whole time he was dating Amber was bulls**t. He never really liked Amber."
No wedding photos have surfaced from Matt and Jennifer's big day, but The Ashley's betting that Matty will be hawking those pics to whatever media outlet is willing to shell out some dough!
(Photo: MTV)