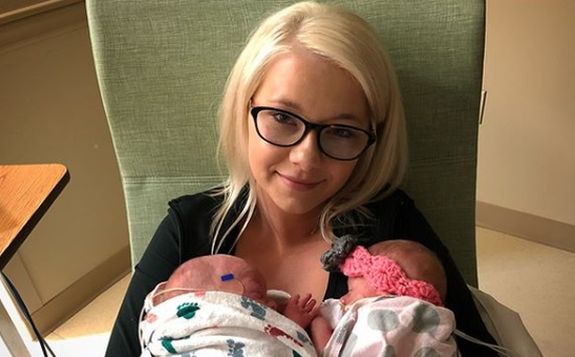 It's been a rough month for former 16 and Pregnant star Lindsey Nicholson, who gave birth to premature twins in late October. Since the birth of her daughter Paisley and son Jackson, Lindsey and her husband T.J. have watched their babies, who were born at 29 weeks, struggle with serious health issues in the NICU.
Earlier this week, Lindsey gave fans an update on her twins, revealing that her daughter Paisley has some sort of liver disease (although they don't know which one yet). She has been transferred to a hospital in Houston, meaning the twins are currently at different medical facilities.
On Instagram, Lindsey posted a photo of the plane that transported Paisley to Houston. In the photo's caption, she described the pain she is in having to leave her son and older daughter, Aniyah, to be with Paislee.
"It was so hard saying goodbye to Jackson this morning," she wrote. "Our hearts are aching. Trying to be in 3 places at once. At home with Aniyah, hospital in Lubbock with Jackson, & the hospital in Houston with Paisley. Is extremely overwhelming, but knowing that there is a cure for what she has and the thought of it could always be worse is what's keeping us positive and going."
A friend of Lindsey's has started a GoFundMe page to help her family financially during this difficult time.
"The Nicholson's medical bills will be outrageous," the fundraising page reads. "Each day it costs $5,400 for the twins to be in the Nicu. That's not including any treatment they need either. The time Lindsey is having to take off from work.  Any little bit will help relieve some stress."
To date, the page has raised $555 of its $15,000 goal.
In another post, Lindsey wrote about how hard it's been to have two babies in the NICU.
"This isn't how any of this is supposed to go. I just want my babies home together," she wrote. "I shouldn't have to chose which baby to be with in the NICU & or have to leave either in another city. Love them so much hurts."
If you'd like to donate to the GoFundMe page set up for Lindsey's family, click here!
(Photo: Instagram)