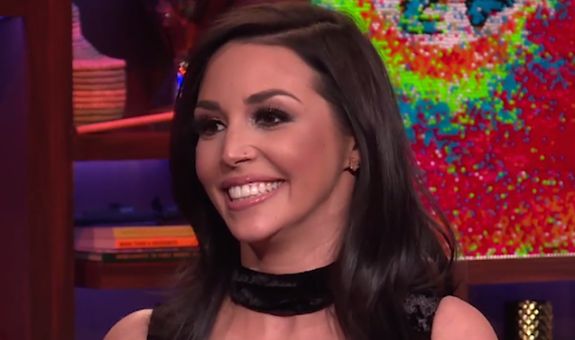 "Sex Tips for Straight Women From a Gay Man" is sticking around in Vegas for another round of on-stage fun, but this time the show will be sans Kendra Wilkinson.
A press release for the show just announced that Vanderpump Rules star Scheana Shay will be taking over the role formerly played by Kendra. (Kendra On Top fans will remember that Kendra's participation in the show caused a lot of strain on her marriage to Hank Bassett last year, so it's not surprising that Kendra only wanted to take the role temporarily.)
According to the press release, MTV star Chester Lockhart will be taking over the male lead role, formerly held by Queer Eye For the Straight Guy star Jai Rodriguez.
Scheana and Chester will make their debut on Thursday, January 4 at the Paris hotel in Vegas. (Kendra and Jai's last performance will be January 2, according to the show's Instagram page.)
The 'Vanderpump Rules' star said she is very excited for the opportunity.
"The first time I saw 'Sex Tips,' I fell in love with it," Scheana said. "The show is all about cutting loose and letting yourself have a good time, and that's what Las Vegas is all about. We are going to have so much fun!"
(You can also see Scheana having "so much fun" on the new season of 'Vanderpump Rules,' which premiered Monday night.)
Chester is also very excited to land the role. (His previous biggest claim to fame has been appearing on MTV's Todrick and releasing a few pop singles.)
To show his excitement, Chester gave what may be the creepiest quote ever printed in a press release.  
"As a 100% virgin, I'm so excited to really stretch my acting skills for this iconic role," he said. "I've been spying on people through their bedroom windows for the past eight weeks and I think that is really going to show in my performance. Namaste."
Despite the fact that it looked like it would be a trainwreck when Kendra was first rehearsing for it, "Sex Tips for Straight Women from a Gay Man" has gone on to be a smash hit.
"Now a pop culture phenomenon, 'Sex Tips for Straight Women from a Gay Man' was recently featured in three reality television series whose stars performed in the show, including 'Kendra on Top,' Real Housewives of New York, and Shahs of Sunset," the press release states. "The source material, the internationally bestselling book of the same title, has been published in more than 50 countries and translated into 17 languages."
Kendra recently tweeted about her experience appearing in a Vegas show.
"It's been an amazing time and I absolutely love this city," she tweeted.
Although the 2018 version of the show won't have Kendra's clan—her fame-seeking mom Patti, her drunk stepmom Amy and her father, GrandDude—fighting in the audience like Kendra's version did, it might still be interesting.
You can get more info about the show here. If you're interested in ordering the Sex Tips for Straight Women from a Gay Guy, you can do so using the link below!