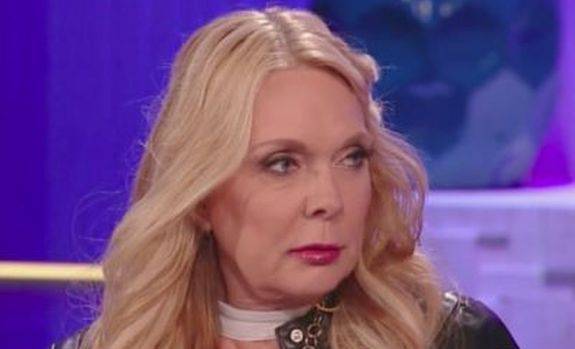 Not even Amber Portwood's psychic could have predicted seven years ago– back when Deb was wearing power suits and still trying to make that Farrah Fawcett feathered 'do work– that one day The Ashley would be writing a story about Deb posting frisky photos of herself to the Interwebs!
Debra Danielsen took a page out of her daughter Farrah Abraham's book on Tuesday morning when she took to Twitter to post a few sexy pics of herself, taken on her wedding day last month.
In one shot, the Teen Mom OG grandma posed, Farrah-style, in a beaded bodysuit and no pants. (Sadly, her lingerie was not from Farrah's just-released lingerie line, however.)
Wedding pre-shot. @MTVUK @TeenMomOgShow @WEtv #sexyweddingshots #photosforgroom #makingmemories pic.twitter.com/vQrl1AyL6s

— Debra Danielsen (@ddanielsen) December 5, 2017
She captioned the photo "#PhotosForGroom" and #MakingMemories."
In another shot, Debz OG showed off her (clothed) caboose in a photo of herself in her wedding dress.
Loving my dress! Thanks #DavidsBridal @TeenMomGossip @MTVUK @TeenMomTalk_FB pic.twitter.com/xGwL7OErEb

— Debra Danielsen (@ddanielsen) December 5, 2017
Deb also posted a photo of her new husband, Dr. David Merz, in his skivvies! In one shot, David and his groomsmen are seen giving the camera a look under their kilts. (One groomsmen who was obviously not keen to have his package photographed kept his kilt down, however.)
Kilts are awesome! Under-The-Sea views! @TeenMomGossip @MTV @TeenMomNewsFeed pic.twitter.com/xUFGDJbACC

— Debra Danielsen (@ddanielsen) December 5, 2017
'Teen Mom OG' fans had a lot to say about Debra's pics. The responses ranged from supportive to downright horrified.
"Tasteful & very brave to add to social media – Hope I look half as good at your age!" one person wrote in response to Deb's sexy photo.
"Damn no shame in your game girl. Not mad at ya. You brave," someone else wrote in support of Deb's photo.
Others were not so pleased with the sexy Deb pics.
"Seriously, have more respect for yourself," one person commented. "Just because your daughter does it, doesn't make it right."
"So sad for you that you think necessary to post, as it only comes off as yet another desperate attempt to stay relevant," another follower wrote.
Farrah has yet to comment on her mother's sexy pics.
(Photos: MTV, Twitter)