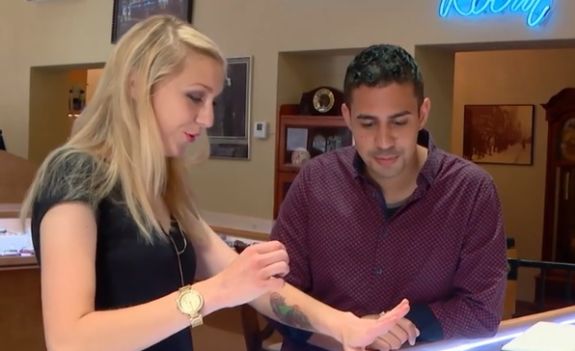 Just when you thought every possible dating show had been done, WETv comes up with yet another one!
The network recently announced that it will soon be premiering a new reality series called Love After Lockup. The show, which is coming to us from the same producers that gave us 90 Day Fiance, follows six couples who fell in love while one of them was behind bars and who now want to get married.
"The show will chronicle many of their big 'firsts' — the first date, meeting the family and other nerve-wracking, intimate moments," People magazine revealed. "The newly released ex-cons will also face the challenges of reentering into society, including strict parole regulations, difficulties landing a job, and, of course, judgment from family and friends."
Don't ya just hate it when your fam disapproves of your ex-con boyfriend/girlfriend?!
Let's meet the legally challenged lovers, shall we?
Johnna and Garrett
Location: Tampa, Florida
Crime & Time: Garrett is the jailbird in this scenario. He was serving a seven-year sentence for burglary, grand theft and several other crimes.
Where They Met: Online
Challenges: Johnna believes Garrett is a changed man, but her father doesn't agree. Not deterred by pops, Johnna is ready to walk down the aisle to marry her locked up beau.
Andrea and Lamar
Location: Lehi, Utah
Crime & Time: Lamar spent 18 years behind bars, but his crime(s) is currently unknown
Where They Met: Unknown
Challenges: Andrea and Lamar are quite different. Andrea is a Mormon single mother of three. Lamar is a former up-and-coming rapper. Andrea's friends and family are skeptical about her new boo. Lamar meanwhile, is just ready to get out, get with Andrea, and restart his rap career.
Alla and James
Location: Chicago, Illinois
Crime & Time: Alla, a former model, is serving five years in the clink for selling heroin.
Where They Met: Prison pen pal website
Challenges: Alla and James are keeping their love a secret. James is hiding the relationship with his family because they are "overbearing" and he is afraid they won't approve of his heroin-slinging lady.
Lizzie and Scott
Location: Oxnard, California
Crime & Time: Lizzie is serving eight years for various DUI charges.
Where They Met: Prison pen pal website
Challenges: Lizzie admits that Scott is not the first pen pal lover she's had since she's been in prison. She said she has used her romantic writing skills to get men to send her money before, but she says that Scott is different. Scott's family and friends are afraid she's just using him. (Scott sent her $20,000, which she calls an "investment.")
Mary and Dominic
Location: Toronto, Canada
Crime & Time: Dominic served six years for assault after getting into a nightclub fight.
Where They Met: They knew each other for a short time before he was sent up the river.
Challenges: The trailer ominously states, "Prison has changed the former 'bad boy' in ways Mary never imagined…Was Dominic worth the wait?" Interesting.
Angela and Tony
Location: Grenada, Mississippi
Crime & Time: Tony is serving three years for possession of a firearm.
Where They Met: Prison pen pal program
Challenges: Tony is 13 years younger than Angela, and is not the first inmate she's dated. Angela's son, who is closer in age to Tony than she is, is not too happy about the relationship however.
The new series premieres Friday, January 12 WEtv.
Watch the supertrailer below!

(Photo: WEtv)