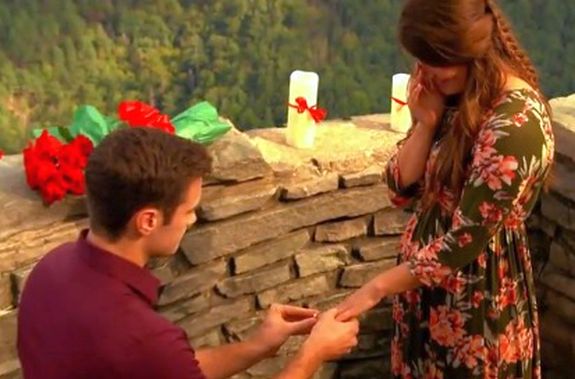 The Bates are back!
The fate of the Duggar clan's show, Counting On, is still unknown, but the reality series featuring the Duggars' pals, the Bates Family is "Bringing Up Bates" is once again heading our way!
UPtv announced a few months ago that the show would be back for its seventh season and, in a new promo for the season, we see some of the exciting things the family has in store.
"For the biggest family on television, it's a season full of moments to live for," according to the Velveeta-level-cheesy promo video.
The new two-minute promo video shows Tori Bates planning her wedding to Bobby Smith, the family going on plenty of outdoor adventures and Lawson Bates working on his musical career.
In case you need a refresher on all the Bates kids (there's a lot of them), we've mapped them out below:
Zach:  He is married to Whitney and they have two children, Bradley and Kaci Lynn.
Michael: She is married to Brandon. According to the family website, the couple is "struggling with infertility."
Erin: She is married to Chad and they have two children, Carson and Brooklyn. They recently announced that they are expecting their third child in April.
Lawson:  He is a musician who has released two albums.
Nathan: He is an EMT, firefighter and pilot.
Alyssa: She is married to John and they have two children, Lexi Mae and Allie Jane, and she is pregnant with her third.
Tori: We will see Tori get engaged to Bobby this season.
Trace: He is a college student and works in the family business.
Carlin: She is currently a music major at Crown Bible College.
Josie: She just finished her first semester of cosmetology school and we will see her begin a courtship this season.
The younger children: Katie, 17; Jackson, 15; Warden, 14; Isaiah, 13; Addallee, 11; Ellie, 10; Callie, 8; Judson, 7; and Jeb, 5; do not have biographies on the family website.
The new season of 'Bringing Up Bates' premieres January 4 on UPtv.
Watch the new season's promo video below!
(Photo: UPtv)