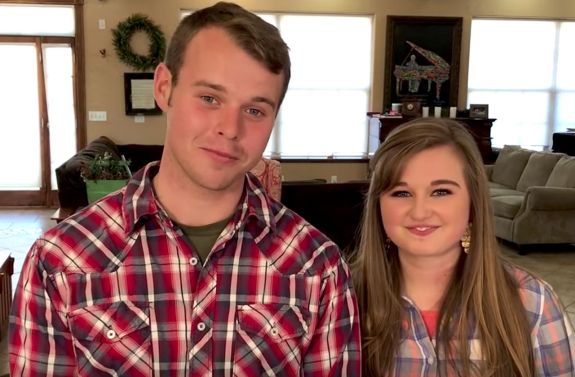 Joseph Duggar and Kendra Caldwell have had a whirlwind of a year; the couple began courting in March, became engaged in May, and got married in September. In true Duggar Family fashion, though, the newlyweds are cramming one more major milestone into a single year: parenthood.
The Counting On stars announced on Monday that they are expecting their first child.
We'll give you a moment to recover from the shock…
"I've always dreamed of having my own family and it's really just kind of surreal that it's actually here," 22-year-old Joseph told People magazine.
"The biggest piece of advice I've gotten is just to get lots of sleep," his 19-year-old bride, Kendra, tells the camera in the TLC announcement video.
The couple tossed around what the baby will be like. While Joseph feels that it will be a boy, Kendra reminds him that there's also a possibility it could be a girl.
"You never know," she says.
Once we cleared that up, the couple reminded their fans to watch their pregnancy on 'Counting On.' While TLC has yet to officially confirm that a new season of the show is coming, the Duggars & Co. have been spotted filming for the show in recent months.
Joseph and Kendra's baby will be the 11th grandchild for Joseph's parents Jim Bob and Michelle Duggar. Joseph's oldest brother, Josh and his wife Anna have five children; while his older sister Jill and her husband Derick Dillard have two. Joe's older sis Jessa and her husband Ben Seewald have two. Joseph's younger sister, Joy-Anna and her husband Austin Forsyth are also expecting. (Joy got pregnant almost immediately after her wedding in May.)
Joseph's older sister Jinger got married in November 2016 but she and her husband Jeremy Vuolo are still enjoying married life without children. Jinger is the only Duggar kid to make it to her first wedding anniversary without announcing a pregnancy.
Oddly, the Duggar kids have yet to congratulate Joseph and Kendra via social media (and/or awkward TLC videos) like they usually do when a Duggar announces a pregnancy. So far, the only person in the family to send their well wishes via social media has been Derick.
"Congratulations to Joe and Kendra on expecting your first child! Y'all will make awesome parents, and Israel and Sam are always up/down for some new cousins!" Derick wrote on Twitter. (Baby Duggar will not be sharing 'Counting On' screen time with his Uncle Derick, as TLC recently announced that Derick will no longer appear on the show.)
The Duggar family did post a message to their official website, however.
"We are so excited for Joe and Kendra! Children are a blessing from the Lord and we can't wait to meet this little one!"
Watch Joe and Kendra's announcement video below. To read The Ashley's recap of Joe and Kendra's wedding special, click here!
(Photo: TLC)