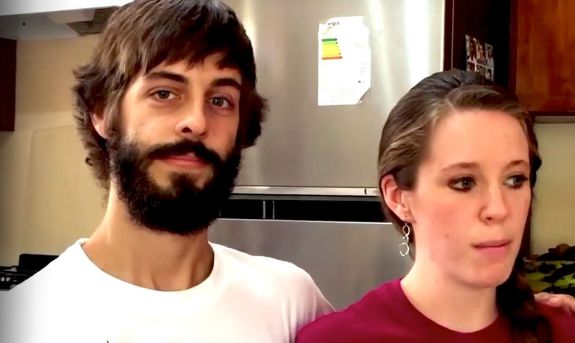 Derick Dillard will no longer appear on TLC's Counting On but the outspoken Duggar Family son-in-law is now claiming that it was him who cut ties with the network, and not the other way around as the network previously insinuated.
As The Ashley previously reported, TLC announced last month that it had cut Derick loose from 'Counting On' after he made many transphobic comments about Jazz Jennings, the teenage transgender star of I Am Jazz. At the time of the (alleged?) firing, Derick kept quiet, but he recently took to Twitter to tell his side of the story.
"Unbelievable what's considered newsworthy these days, but then again this is how I heard I was 'fired,'" he wrote in response to a Fox News tweet about his firing. "For the record, I was never fired. I just felt it was best for my family to cut ties months ago, as we are heading in a different direction."
On Monday he followed that tweet up with even more info about his time at TLC. In a series of tweets he wrote in response to nay-sayers, Derick claimed that he "never worked for" the network in the first place!
"Yes, I'm no longer doing [the show], but nowhere did they say that I was fired," Derick wrote. "Big difference. You can't be fired from somewhere you never worked."
"That's what's so funny. I was fake fired from my fake job," he told another person on Twitter. "PR must be their justification. See it is funny, you're laughing too lol."
From what The Ashley can gather, Derick is implying that he never had any sort of contract with the network to appear on 'Counting On' and 19 Kids and Counting. He used that fact to explain why he wasn't technically 'fired' by TLC, despite the network releasing a statement last month saying that Derick "has not participated in 'Counting On' for months" and that the network "has no plans to feature him in the future."
"TLC most likely just felt it was a good time to say something for PR reasons, but they couldn't say I was fired because they never had any formal relationship with me," Derick explained on Twitter.
It appears that Derick is taking his wife Jill and their kids with him in that "different direction" he was talking about.
"So you guys aren't on the show anymore?" a fan asked.
"Correct," Derick replied.
While Derick and Jill will be sitting on the sidelines (along with disgraced eldest Duggar son Josh) as the rest of the family films for 'Counting On,' it appears that Joseph Duggar and his new wife Kendra will be stepping up to fill their spot on the show. The couple just announced that they are expecting their first child, and, since beginning his courtship with Kendra, Joseph has taken on a much larger role on the show than ever before.
TLC has yet not given a specific premiere date for the new season of 'Counting On,' except to say that it will air sometime in the Spring of 2018.
(Photo: TLC)