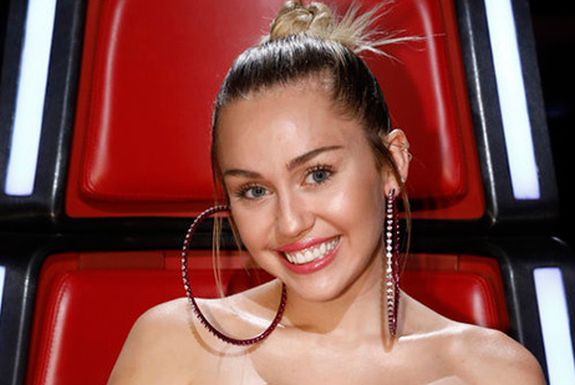 Miley Cyrus has never been shy about her use of marijuana… but recently the singer and current coach on The Voice turned over a new leaf (no pun intended) when she gave up the green and went sober.
That's right — the "Can't Stop" singer has done just that…
In an interview with SiriusFM Miley talked about her new marijuana- and alcohol-free lifestyle and how she finds the change to be "very weird" but also rewarding. She told the site that it's been nine or 10 weeks since she's smoked pot.
"Look at my eyes, look at how white they are," she said. "They're clear and open and I can see and all that," Miley said. "A lot of people have reached out to me and they're like, 'You know, if you want help or if you want to go to these meetings' and I'm like, 'No, when I want something, I can do it.
"Anything that I want to do, if I want to stop or start something, I can do anything. I just decided not to [smoke] anymore and now it's easy for me," she continued.
During her wild-child phase a few years ago, Miley was often seen sporting clothing emblazoned with marijuana leaves. In the interview she said she often becomes "very obsessive" about things she likes.
"I'm a very obsessive person, which I need to work on, but also it helps in my position to be a little obsessive because then I can really get things done and make sure it's perfect," she said.
Miley seems to be having no trouble "getting things done." She released her sixth album this year, performed last month on Saturday Night Live as the musical guest and currently has a member of Team Miley still in the running for 'The Voice' Season 13 title.
When looking back on her outrageous past (that has caused many people to be unable to look at foam fingers the same way ever again), Miley told NME she still wants to be an entertainer and most importantly, continue being one in her own way.
"With the short hair thing, it was an androgynous, sexy feeling, which is what I want people to feel like," she said. "I don't wanna be over-feminized, but I'm not masculine either — I'm just myself."
(Photo: NBC)