Teen Mom 2 fans have watched Briana DeJesus' mom, Roxanne, go after Briana's two baby daddies (sometimes armed with footwear), but on Friday she seemed to be focusing her anger on her daughter's new boyfriend, Javi Marroquin!
Roxanne's cat claws came out in a series of (now deleted) tweets, one of which was clearly aimed at Javi, as it discussed deployment. (Javi recently announced that he is being deployed for the second time by the Air Force.)
In her angry tweet, Roxanne stated that Javi's deployment is no longer happening– and that Javi may have just been using the topic to get himself more 'Teen Mom 2' airtime! 
"How many times can you say 'I'm being deployed' and not get deployed," she tweeted. "Stop using deployment as a tool for sympathy. But it's a good storyline… GTFOH."
(That last part stands for "Get The F**k Outta Here" for those of you who are not up on your "cool kid" lingo!)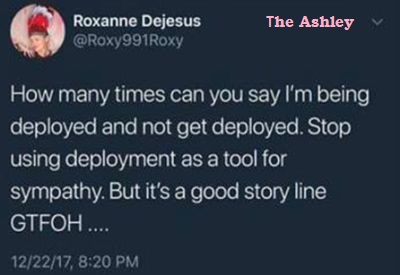 When a fan specifically asked Roxanne if this tweet was about Javi, Roxanne posted an emoji that seemed to confirm that it was. She then deleted the original tweet.
Fans will remember that Javi discussed a second deployment during Season 8A, telling his son Lincoln and former stepson Isaac that he may have to go on another deployment. His ex-wife, Kail Lowry, got angry at Javi for telling the boys before he was confirmed to go. (Javi did not end up getting deployed that time.)
So far, Briana (who is currently in Delaware spending time with Javi) has not commented on her mother's outburst. Javi has also remained silent regarding his deployment and Roxanne's tweet.
When fans brought the screenshot of Roxanne's tweet to Kail (via Twitter), she chose not to comment…yet.
UPDATE! Briana's sister, Brittany DeJesus is no longer following Javi on Instagram! It appears that things have soured between Brittany and Javi (who were once pals), and possibly Brittany and Briana, judging by a recent Instagram Live session that Brittany did.
Watch her call Brittany call Javi Briana's "raggedy ass boyfriend" in the clip below!
(Photos: MTV, Twitter)