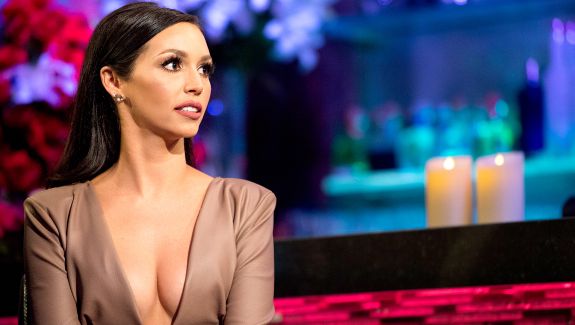 Should Santa Claus bring Scheana Shay a new bountiful bosom for Christmas? That's what the Vanderpump Rules star is trying to figure out!
Scheana recently asked her over 932,000 Instagram followers to help her decide if she should get a boob job. (As you do…) She posted a revealing photo of herself in lingerie, along with the caption, "To get boobs or not? That is the question…"
For years, the 'Vanderpump Rules' star has been accused of getting fake boobs. In 2015, after appearing on Watch What Happens Live looking a little extra, um…perky…the accusations became more frequent. Scheana has always denied that she has gone under the knife, however.
"I'm not against it whatsoever I just don't have them lol. If I did I'd say I did," she wrote on Twitter in 2015.
While some fans encouraged Scheana to get larger boobs, most of the comments left below the photo discouraged her from getting procedure.
"NO!! Natural is more beautiful! Don't go typical Hollywood, do you!" someone wrote.
"No, don't be part of the common flow. Rock your body, since it is amazing and proportional," another fan posted.
While it's unknown if Scheana decided to get boobs, one thing's for sure: she certainly accomplished her goal of getting attention by posting that photo. Some fans called her out for fishing for compliments.
"Get over yourself," one person wrote in the comment section. "You suck this season, your head is bigger than your whole body."
(Photo: Bravo, Instagram)