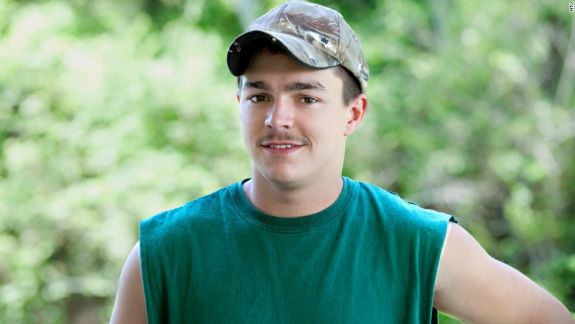 Deceased Buckwild star Shain Gandee will be remembered in his West Virginia hometown with a memorial sign, but some people in the community aren't happy about it.
Although it's been over four years since Shain—who starred on the MTV reality show—died in a tragic accident, his mother Loretta Gandee said he's still remembered by his fans, and she has worked to have a sign erected in his hometown of Sissonville, West Virginia, in his honor. (MTV cancelled 'Buckwild' following Shain's death.)
Loretta met with the Greater Sissonville Development Council recently to explain why she wanted a sign for Shain. Loretta said 5,000 fans are still connected to Shain (via social media) and many want to visit his grave. Loretta explained that Shain is buried at a small family cemetery that is unable to accommodate the heavy traffic.
The council approved a letter of support for creation of a sign or memorial indicating Sissonville is the "Home of Shain Gandee." Loretta found the perfect place to place the sign—local market Buddy B's , and that was the end of it…or so she thought.
Loretta took to Facebook on Wednesday to update fans on what has been going on in recent weeks. According to her post, she has received negative comments about her intent to place the sign.
"It seems I have touched a nerve," Loretta wrote on Facebook. "I have offered to have the sign made and pay for it myself. I'm not asking for a handout, I'm asking for a sign."
Loretta claimed that many people are misinformed about how her son died, which has given them a negative impression of Shain.
"So many are saying that alcohol was the cause of his death," Loretta wrote. "Truth be known, nowhere on his autopsy report did it say he was intoxicated [while driving his off-road truck]."
She went on to explain what caused the death of Shain (as well as his uncle David Gandee, and his friend, Donald Myers.)
"My son Shain died from carbon monoxide poisoning," Loretta wrote. "Within 10 minutes of him entering the mud hole, his tailpipe submerged in the mud causing fumes to enter the vehicle; resulting in all three passing away from carbon monoxide poisoning, a poison that is odorless. He didn't choose to take his life or anyone else."
Despite any negativity, Loretta said the sign is still being made and will be put up at Buddy B's soon. The establishment also plans to have several photos of Shain on display inside, so that fans can pay their respects.
(Photo: MTV)