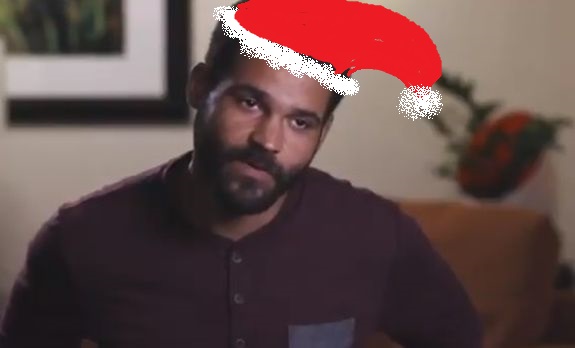 Note from The Ashley: Happy Holidays, Roundupers! The Ashley saw this amazing 'Teen Mom 2'-themed literary masterpiece floating around online and felt that her readers needed to see it! This 'Teen Mom 2'-themed version of "'Twas The Night Before Christmas" was written by Anna, who generously gave The Ashley permission to print it here on The Roundup back in 2017! She felt it was worthy to bring back again this year!
Enjoy this fun version of the Christmas classic, "'Twas the Night Before Christmas" starring 'Teen Mom 2' stars Jenelle Evans, David Eason and, of course, Kieffer Delp!
The Story of St. Kieffer
'Twas the night before Christmas, when all through The Land™
Not a soulmate was stirring, not even Courtland
The Easons were all ready with feathers in their hair
In hopes that St. Kieffer soon would be there
The baby daddies were nestled all snug in their beds
While visions of child support danced in their heads
Jenelle in her court heels, with David in her lap
Had just settled down for a pot-induced nap
When out on the yard there arose such a clatter
David sprang from the bed to see what the matter was
He prepared to hand out the next Cease and Desist
He burst out the door and threw up his fist
In his old leather boots he was ready for rakin'
He stomped through the sod, what a mess he was makin'!
When, what to his wide manic eyes should appear
But a beat-up old car, pulled by eight reindeer!
With an unlicensed driver, and in need of repair
He knew in that moment St. Kieffer was there
More classier than any soulmate he arrived
And brought with him twelve bags of kush to provide;
"Now, Kaiser! Now, Sophia! Now, Bentley and Lincoln! On, Gracie! On, Allie! On, Ensley and Watson!
To the top of the porch! To the top of the wall! Now dash away! Dash away! Dash away all!"
Like drones in the air, the reindeer did fly
Their bells could be heard from up in the sky
So right to The Land™ the reindeer then flew
With the sleigh full of cigarettes, and St. Kieffer too
And then, in a twinkling, Jenelle heard on the roof
The prancing and pawing of each little hoof
As Jenelle called for babe, and was turning around
Through the modular chimney St. Kieffer came down
He was dressed all in green, from his head to his foot
And his clothes were all tarnished with ashes and soot
A bundle of cannabis he had flung on his back
He looked like a street dealer opening his pack
His eyes, how they twinkled! His dimples, how merry!
His cheeks were like roses, his nose like a cherry!
The smirk of his mouth was drawn up like a bow
And his hoodie was covered in fresh winter snow
The stump of a joint he held tight in his teeth
And the smoke it encircled his head like a wreath
He had a broad face and a little round belly
That shook when he laughed like a bowlful of Jenelley
He was hungover and stoned, a right jolly old Delp
Jenelle laughed when she saw him, quite hungover herself
With a twitch of his eye and a twist of his head
Soon caused her to know from the law he just fled;
He spoke not a word, but went straight to his work
He filled all the stockings, then turned with a jerk
And laying his finger right under his nose
After doing a bump, up the chimney he rose
He sprang to his car, to his team gave a whistle
And away they all flew like the down of a thistle
But they heard him exclaim, as he drove out of sight
"BEIN' A FELON AIN'T ILLEGAL, AND TO ALL A GOOD NIGHT!"
(Photo: MTV)