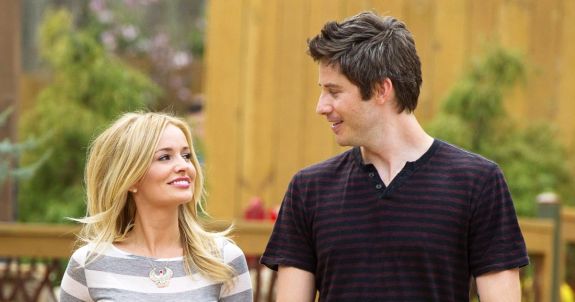 Arie Luyendyk Jr.'s season of The Bachelor is about to premiere and, while plenty of women are planning to watch Arie hand out roses, one person is sure she's not tuning in.
Emily Maynard, who famously dumped Arie at the end of her season of The Bachelorette in 2012, recently told People that she's thrilled that her ex was chosen as the new 'Bachelor,' but she won't be watching his season.
"I feel like it would probably not be appropriate," Emily, who is now married to Tyler Johnson and the mother of four, told the magazine.
"I've been rooting for Arie to be 'The Bachelor' since my season ended– he's a great guy," she added. "It'll be great TV [but not] TV that is watched in my house."
Arie recently told People that Emily broke his heart when she dumped him on the show.
"It was really hard for me to get over that relationship," he said. "But I learned a lot about myself and how deeply I could love somebody. It made me want to do it again."
One of Arie's other famous exes– former Bachelor winner Courtney Robertson— is also rooting for Arie. (The couple dated on-and-off for years and in her book Courtney stated that Arie was the best sex she's ever had!)
In her own interview with People, Courtney stated that she's almost positive Arie will end up engaged at the end of his season of 'The Bachelor.'
"Even now, Arie still can't believe it's really happening," Courtney said. "He's really excited about it, so I'm happy for him. I hope he finds The One."
Arie's season of 'The Bachelor' premieres January 1 on ABC.
(Photo: ABC)