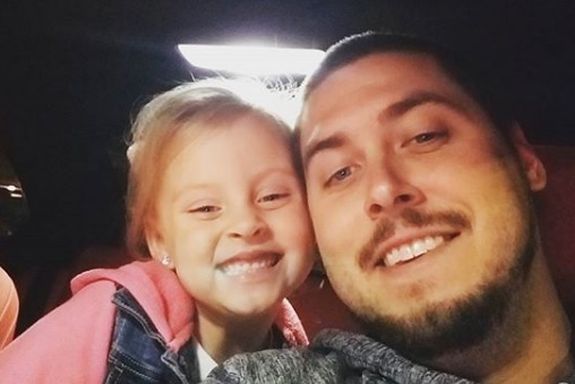 Get ready for the Teen Mom 2 version of "A Christmas Story!"
The show's fans have had a lot to say in the days since 'Teen Mom 2' dad Jeremy Calvert posted a series of photos to his Instagram account, bragging that he bought his almost-five-year-old daughter, Addie, not one but two rifles for Christmas!
Everyone all together now: "You'll shoot your eye out!"
In the first photo, Addie (whose mother is Leah Messer) is holding a pink camouflage 22-caliber cricket rifle. In the photo caption, Jeremy also heads off haters by adding "yes Leah is aware of this."
In the second photo, Addie is shown holding an all pink bolt action rifle. Jeremy followed that up with a selfie of him and Addie. In the post, he defends Addie's right to defend herself…in his own special way, of course.
"God I love this girl so damn much she's my everything." Jeremy wrote. "Someone f**ks with her I'll gladly dig a hole. She didn't come into this world to be some man's punching bag. Hints why she will learn to shoot a gun at a young age…don't like it don't follow my f**king sh*t."
Fa la la la la, la la la la!
Not everyone agreed with Jeremy's gift.
"This is all that is wrong in America," one person wrote in the comment section.
"Your children are barely disciplined and now you let her hold her gun before teaching her how to?" another person wrote.
Others defended his decision to give his daughter guns.
"If you don't own a gun by 5 years old are you really from WV? lol It's like a rite of passage here, especially if your into hunting!" one fan commented.
"Raising her right. Lady that won't take any crap… get her a custom made coach holster," someone else wrote.
Although many fans of the show were outraged that Jeremy gave multiple weapons to a four-year-old, Leah apparently saw nothing wrong with the gifts.
"You don't have to explain anything to anyone," Leah wrote in the comment section of one of the photos, defending Jeremy. "She's precious."
Christmas gift-giving wasn't made up only of rifles and bullets at the Calvert household. A few days before Christmas, Jeremy posted that he gave Addie some sort of treat from the Coach store.
"Shopping at Coach at 5 years old, unreal daddy is a sucker for a smile," Jeremy wrote. "Love my baby girl… #shegetswhatshewants"
(Photos: Instagram)