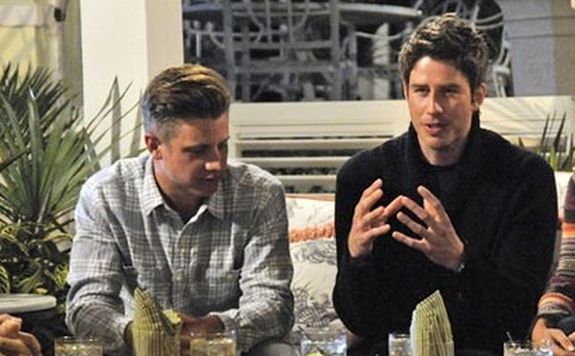 Arie Luyendyk Jr.'s season of The Bachelor premiered last night with many beautiful, successful women competing for his heart. However, Arie's former BFF Jef Holm is putting his money on Arie still ending up single in 2019!
Jef, who Arie met while they were both competing on Emily Maynard's season of The Bachelorette in 2012, took to Twitter on Monday night to declare that he was sure Arie would fail in his relationship, regardless of whom he chooses at the end of his season.
"Doesn't matter who gets out of the limo…I'll give 5k to the charity of @chrisbharrison's choice if Arie lasts 1 year with anyone," Jef tweeted.
Fellow former 'Bachelor' contestant William Holman seemed to agree with Jef's sentiments.
"That's a safe bet," he tweeted in response to Jef's tweet.
What makes Jef's public declaration even more juicy is that Jef and Arie used to be best pals, often attending social events together and–reportedly– acting as each other's wingman for years to pick up chicks after Jef split with Emily.
At some point, though, the friendship between Jef and Arie soured. When Arie was announced as the next 'Bachelor' in September, Jef made sure to let the show's fans know that he is no longer pals with Arie.
"[I] stopped being friends with [Arie] years ago because he's disgusting," Jef tweeted.
Jef and Arie have been quiet about what ended their friendship…at least up until this point, anyway. However, the split happened in early 2014, according to WetPaint.
The site reported that Arie and Jef were hanging out at the January 2014 wedding of 'Bachelor' couple Sean Lowe and Catherine Giudici, but got into a fight at an after-party later that night.
"One moment everything was fine, and then they started yelling at each other," the site's source stated. "Arie was clearly pissed at Jef about something, and it got ugly fast. I think it's over between them."
Neither man has ever confirmed or denied the report. However, 'Bachelor' guru Reality Steve seemed to echo Jef's feelings about Arie's character.
"You're being sold a load of crap with Arie. The biggest dog they've ever cast as lead in 'Bachelor' history," Steve tweeted after the announcement in September. "Good luck. He's gonna need it."
(Photos: ABC, Instagram)