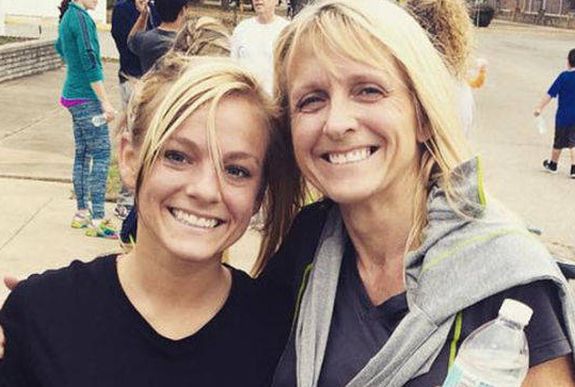 The family of Teen Mom 3 star Mackenzie McKee is reeling after they learned that Mackenzie's mom, Angie Douthit, has been diagnosed with Stage 4 brain cancer and lung cancer.
Angie was seen prominently throughout Mackenzie's 16 and Pregnant episode, as well as the full season of 'Teen Mom 3.'
Mackenzie and her mom had been using social media to update fans on Angie's condition, and, according to a post on Mackenzie's Snapchat on Wednesday, the bad news just kept coming for the family.
"We all sat with her the entire day and every time the doctors came in the news just getting worse," Mackenzie told her followers.
According to TMZ,  Angie had surgery on Wednesday that revealed several large lesions covering her brain, as well as several tumors in her lungs, one of which was at least 7 cm. In addition, Angie has blood clots throughout her body.
Angie was due to have surgery to have the masses on her brain removed, but her doctors soon discovered that there were five masses, instead of the three they had originally seen.
"She was going to have brain surgery yesterday and get the three large masses removed…then the doctor came in to inform us that she has five masses on the brain, not three and they're just not sure if brain surgery can remove five masses throughout the whole brain. That's cutting open your whole skull."
Angie is often seen in Mackenzie's social media postings, running and exercising with Mac and her family. She is a school teacher who, according to Mackenzie, does not drink or smoke. She is an active marathon runner, so the diagnosis was particularly shocking to Mackenzie and her family.
On Tuesday, Angie first let her friends and family know what was going on.
"Several months ago I began having trouble breathing and for a runner it weirded me out," she wrote on Facebook. "I was diagnosed with bronchitis which I knew I didn't have. I waited and it got worse. Well… after a few scans, i have a large mass in my lung. And three masses in my brain…"
On Snapchat on Wednesday, Mackenzie revealed how she felt when she heard the news about her mom.
"After we heard the words 'Stage 4 cancer' I almost blacked out," she told her followers. "My face turned red in anger and I couldn't even look at my dad. She's been the love of his life since he was 15 years old."
Since 'Teen Mom 3' went off the air, Mackenzie has been working on starting her own fitness brand. Her mother frequently appears in her workout videos. As The Ashley previously reported , Mackenzie was up for the slot on Teen Mom 2 that Briana DeJesus ended up getting.
A GoFundMe page has been set up to help with Angie's medical expenses. Mackenzie wrote on Snapchat that her mom was just asking for prayers.
"My mom begged for no one to help," Mackenzie wrote. "She just wants prayer. She never asks for anything. We just want to do what we can to help in any way."
To make a donation to Angie's GoFundMe fundraiser, click here.
The Ashley will continue to provide updates on Angie's condition as more information becomes available.
UPDATE: On Thursday night, Angie posted an update on her Facebook page.
"The bone scan is clear!!! Praise God!" she wrote. "I have 8 tumors in my brain. They will begin radiation next week for two weeks. The mass in my lung is the size of an orange and I have numerous small ones scattered throughout both lungs. We will target those with chemo after the radiation treatments. Being in good health is a huge plus for me and I should heal quickly! God is in control and I'm taking one day at time. I want every day to count, life is too short to waste time. I have a lot of work to do and lots of people to share Christ with, I will fight the good fight and run the race set before me. I will be strong and do my best to get the job done God has planned for me." 
UPDATE #2 (January 5, 2018): "The biopsy is here. I have non-small cell lung cancer that is also in my brain," Angie wrote on Facebook. "I will start radiation Tuesday for two weeks then chemo, life is funny, I've always griped at people for smoking then I get lung cancer. However, I know that God has the final authority on what happens to me and his ways r not my ways. God is good. #alwaysbekind Please pray for my family… they're having a really rough time."
(Photo: Instagram)